When we last visited Catoctin Mountain Park, it seemed that peak fall colors would probably occur in a week. So, we headed out there again today. The best colors seemed to be at medium elevations and particularly on the eastern side of the park.
Thurmont Vista
We arrived just before 9am and parked at the trailhead near Thurmont Vista. We saw some nice colors here last week but there was still quite a bit of green. Today though, it was excellent!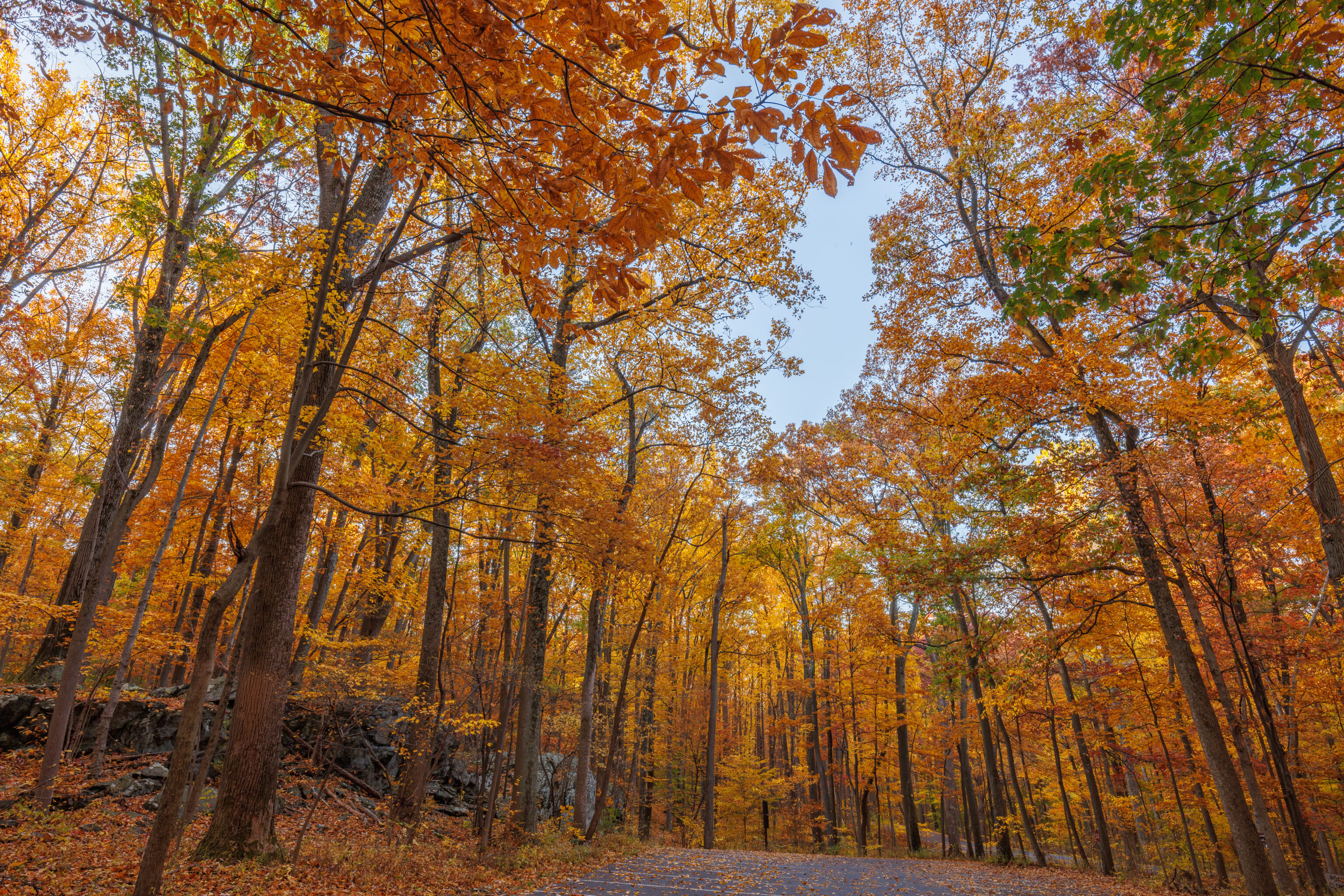 There was quite a bit of yellow and orange as we started hiking to the east. The trees here are all very tall, each with a small canopy.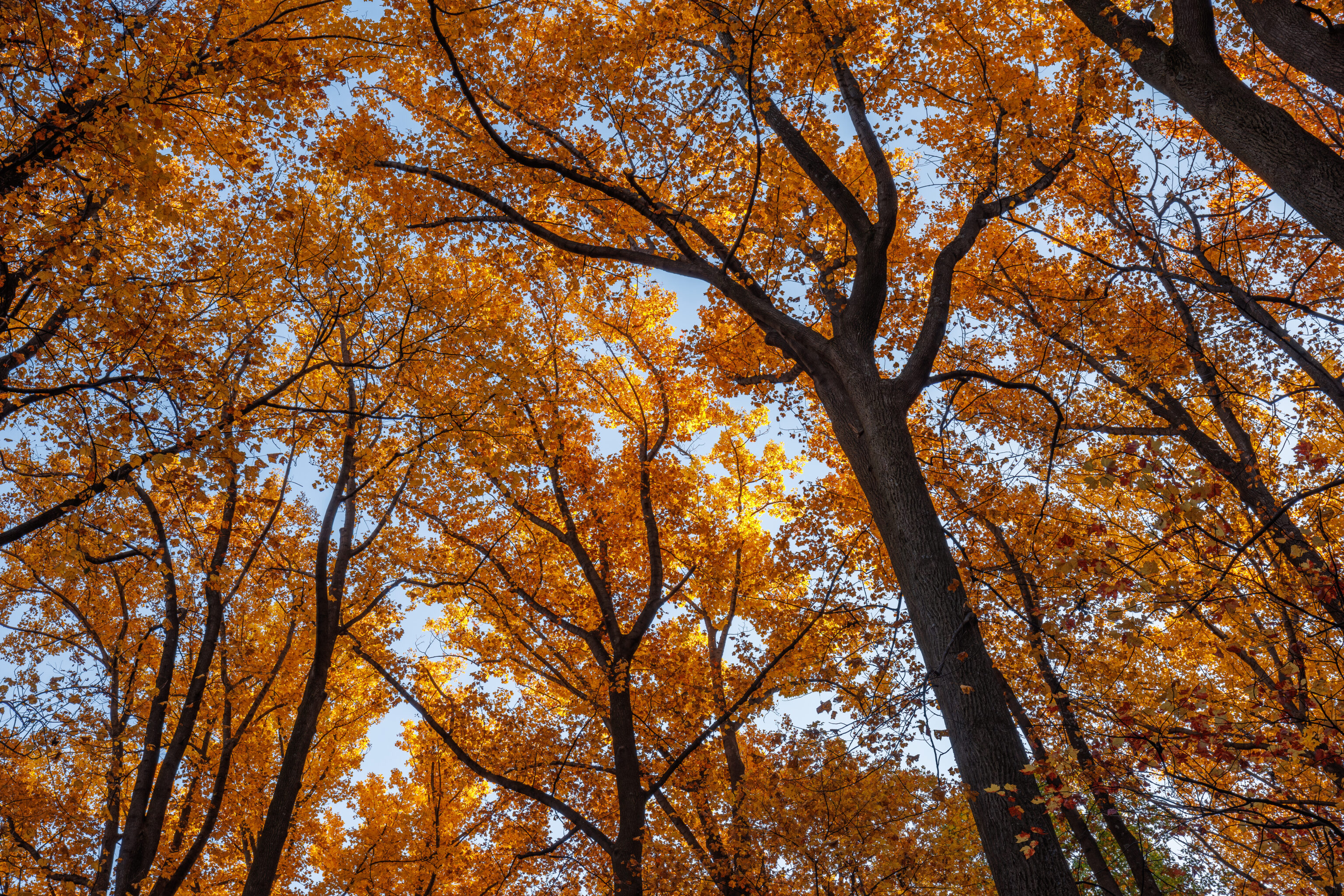 A typical view looking up. Nearly everything was displaying fall colors!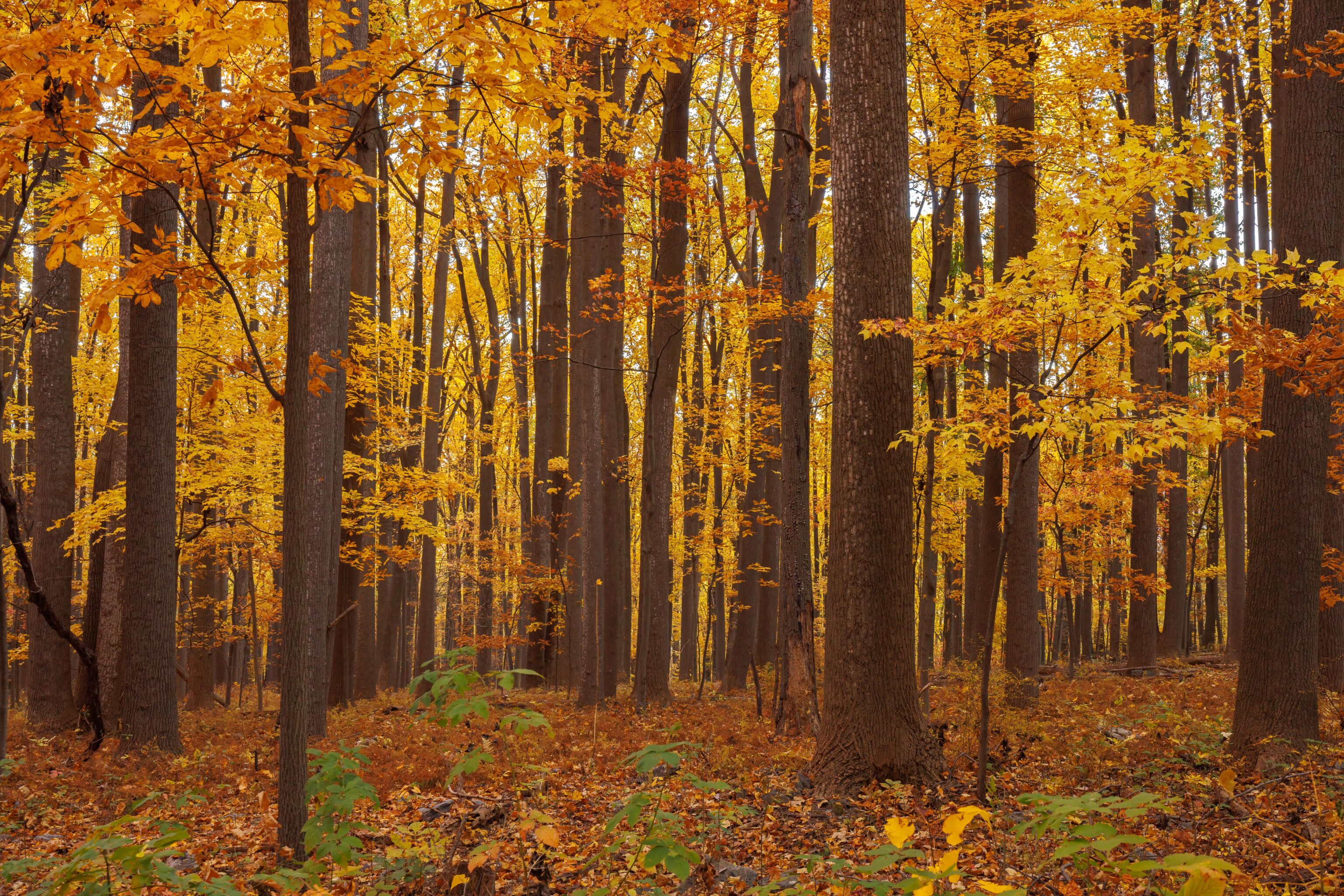 The view to the side of the trail.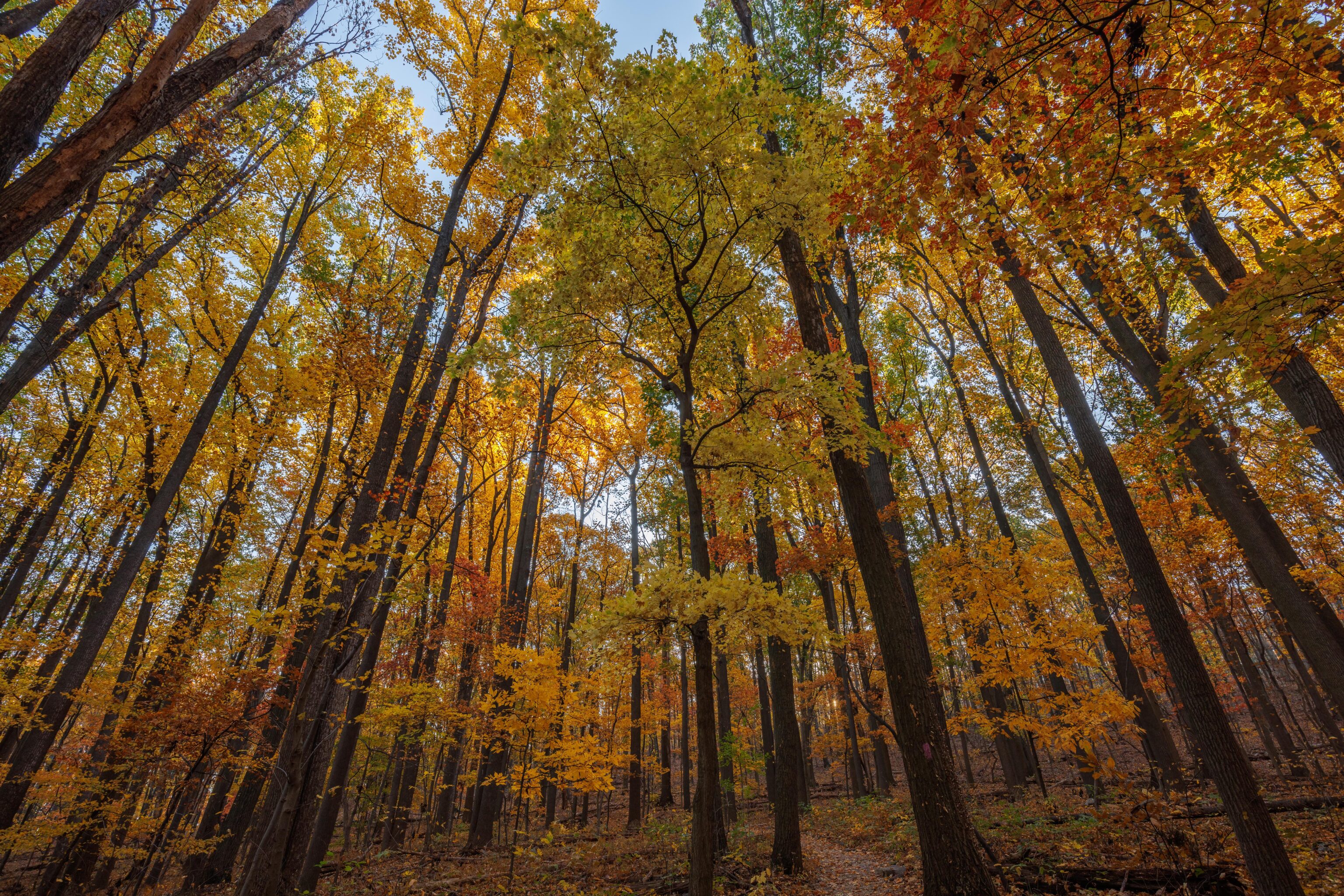 This particular smaller tree was kind of odd. Its leaves were an atypical greenish yellow color. It was the only one that we saw with this particular shade of color.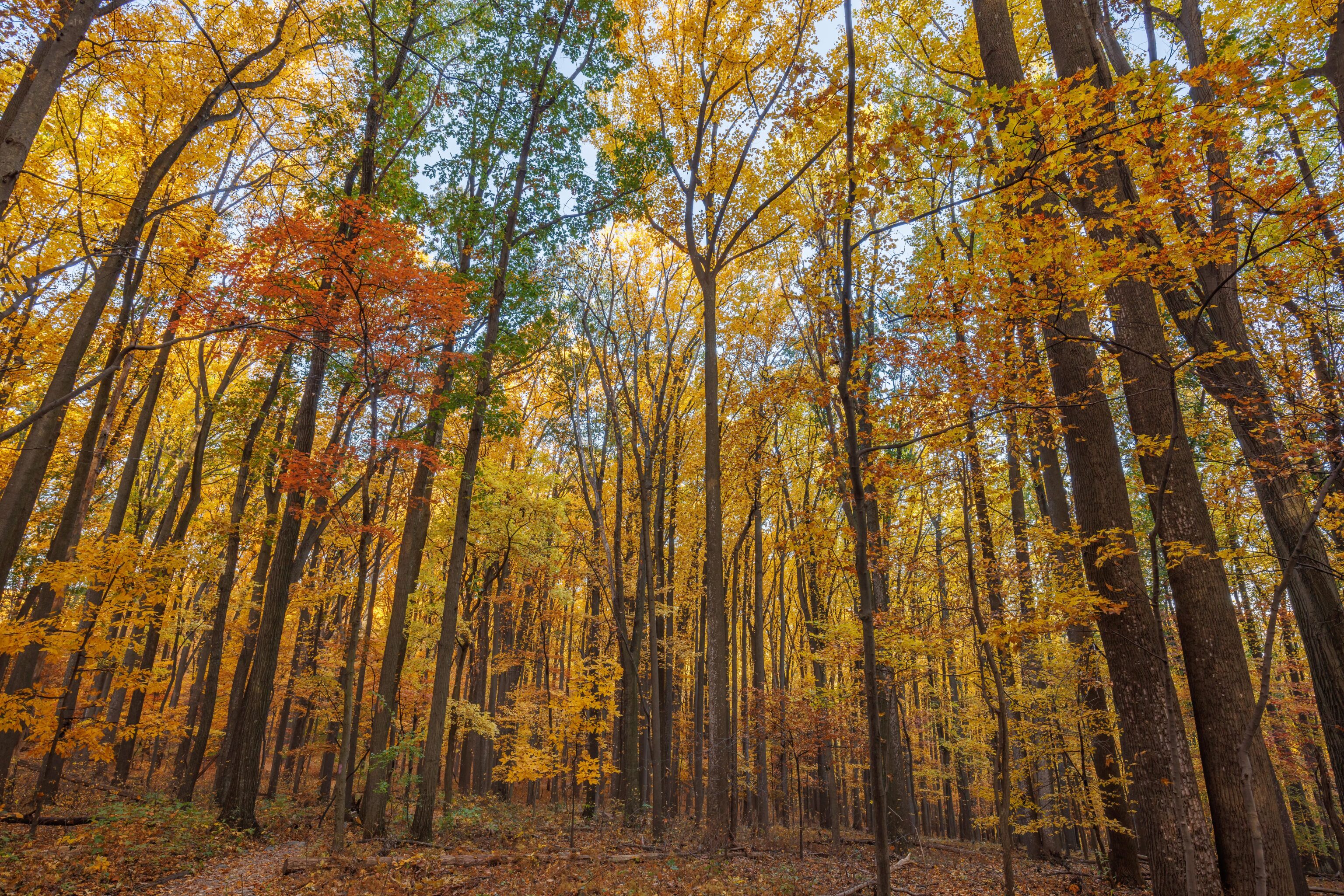 There was still a bit of green here and there but the fall colors were significantly more common today!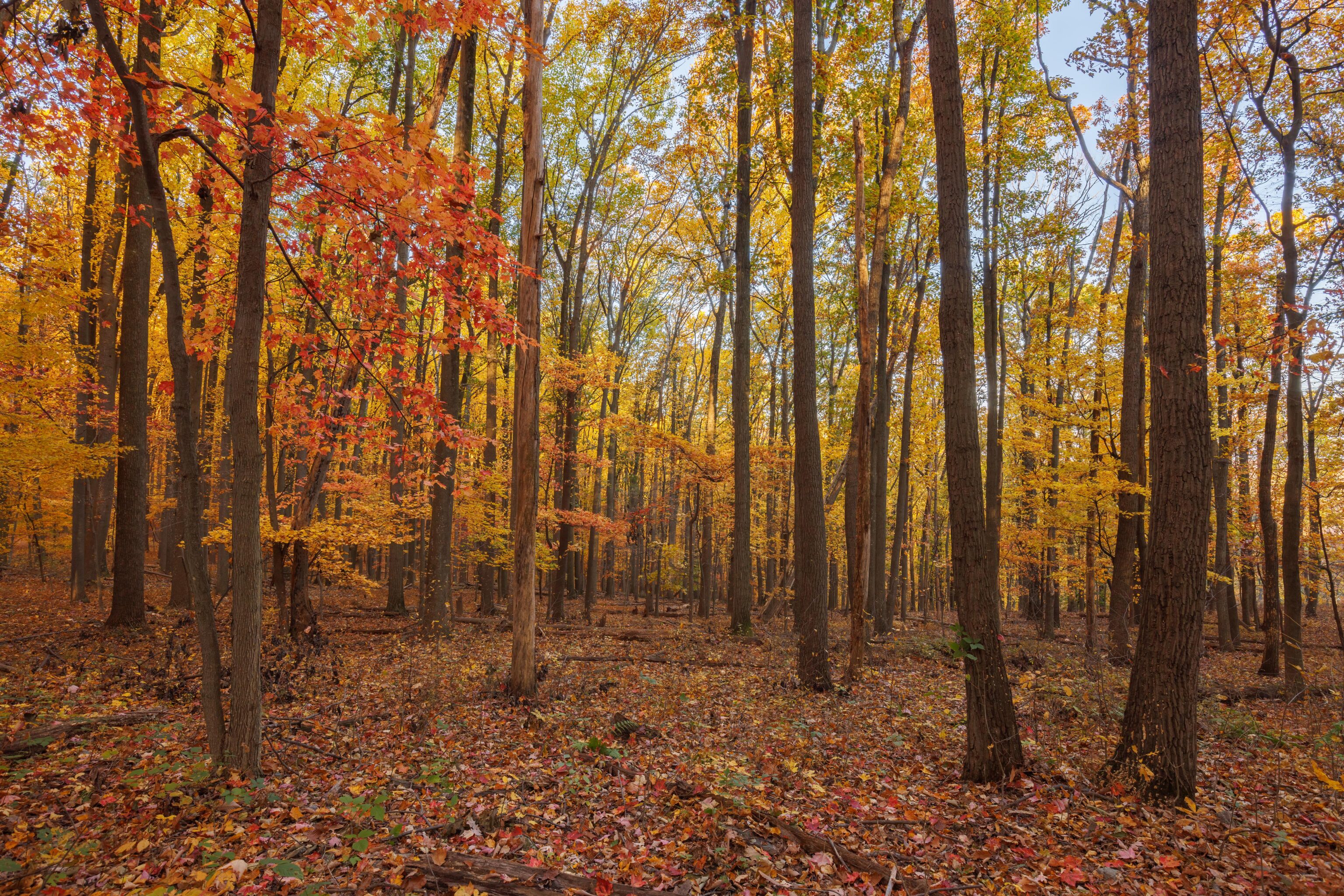 We continued hiking to the east as the trail ascended on the way up to Thurmont Vista.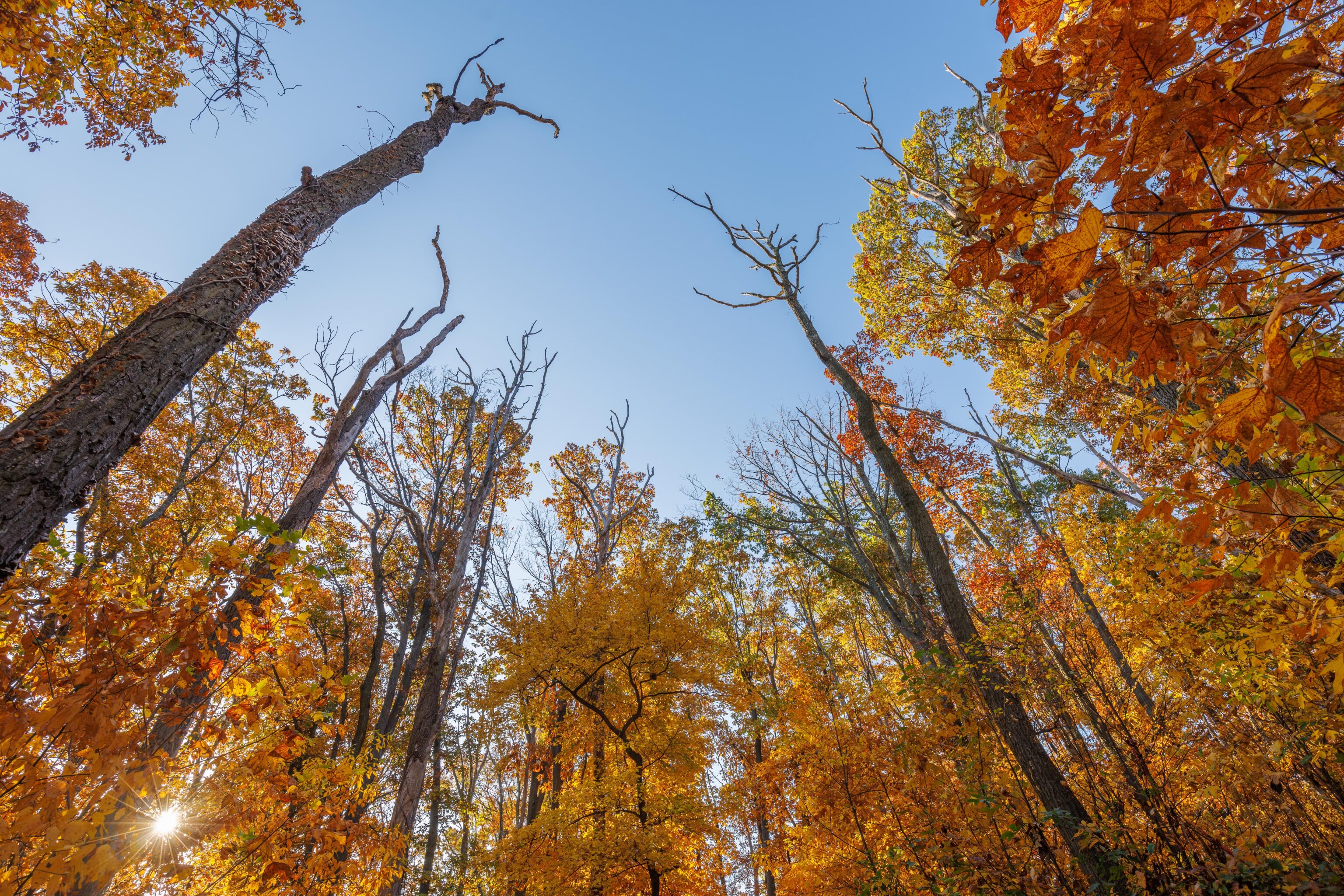 Once we reached the ridge at the top of the mountain, the foliage thinned out a bit. For whatever reason, there seems to be more dead trees up here than down below. Others seemed to have already dropped their leaves. Still, better than our visit last year when we were too late.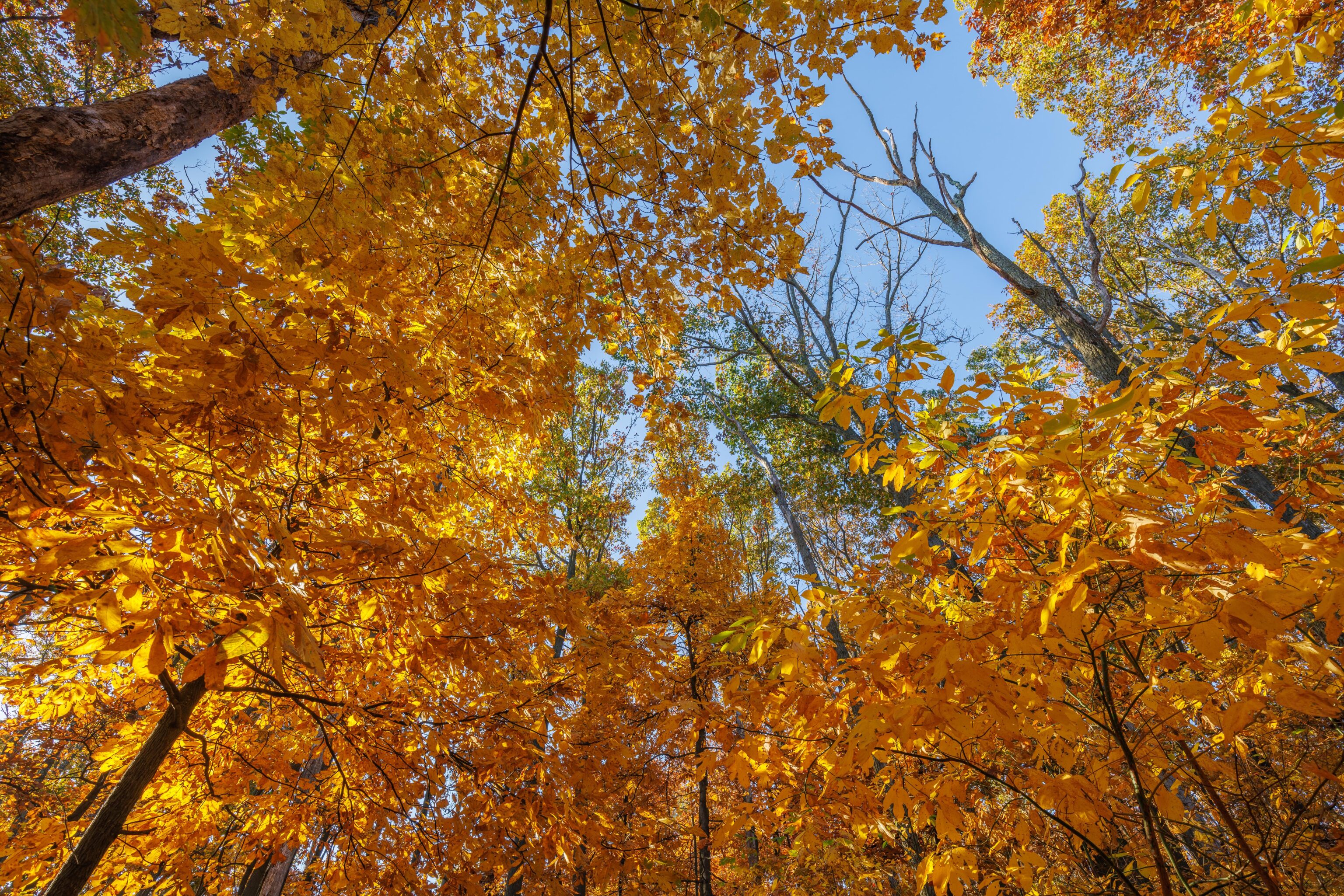 There was still plenty of color though as we approached the viewpoint.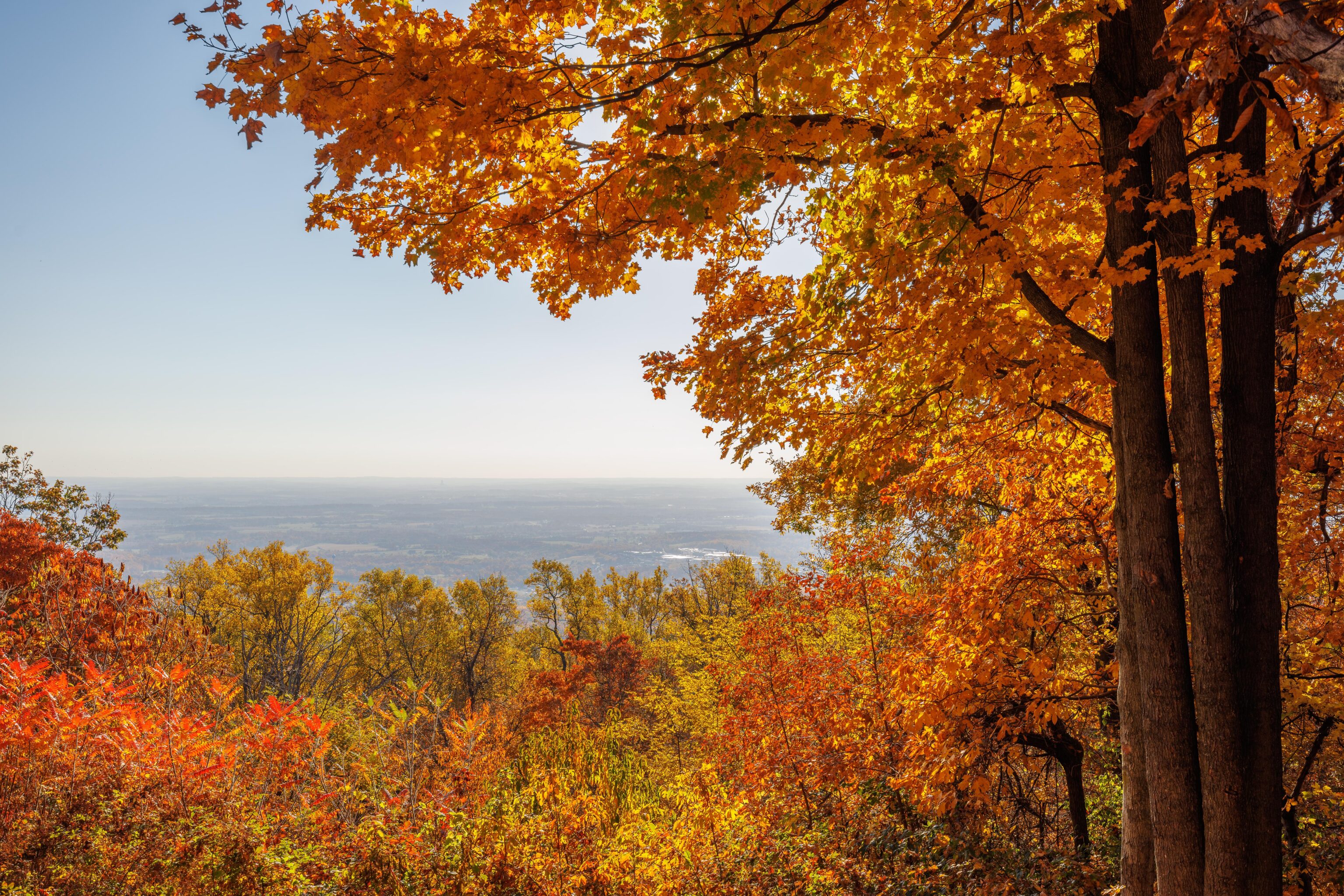 The colors were fantastic at Thurmont Vista! Definitely improved compared to last weekend!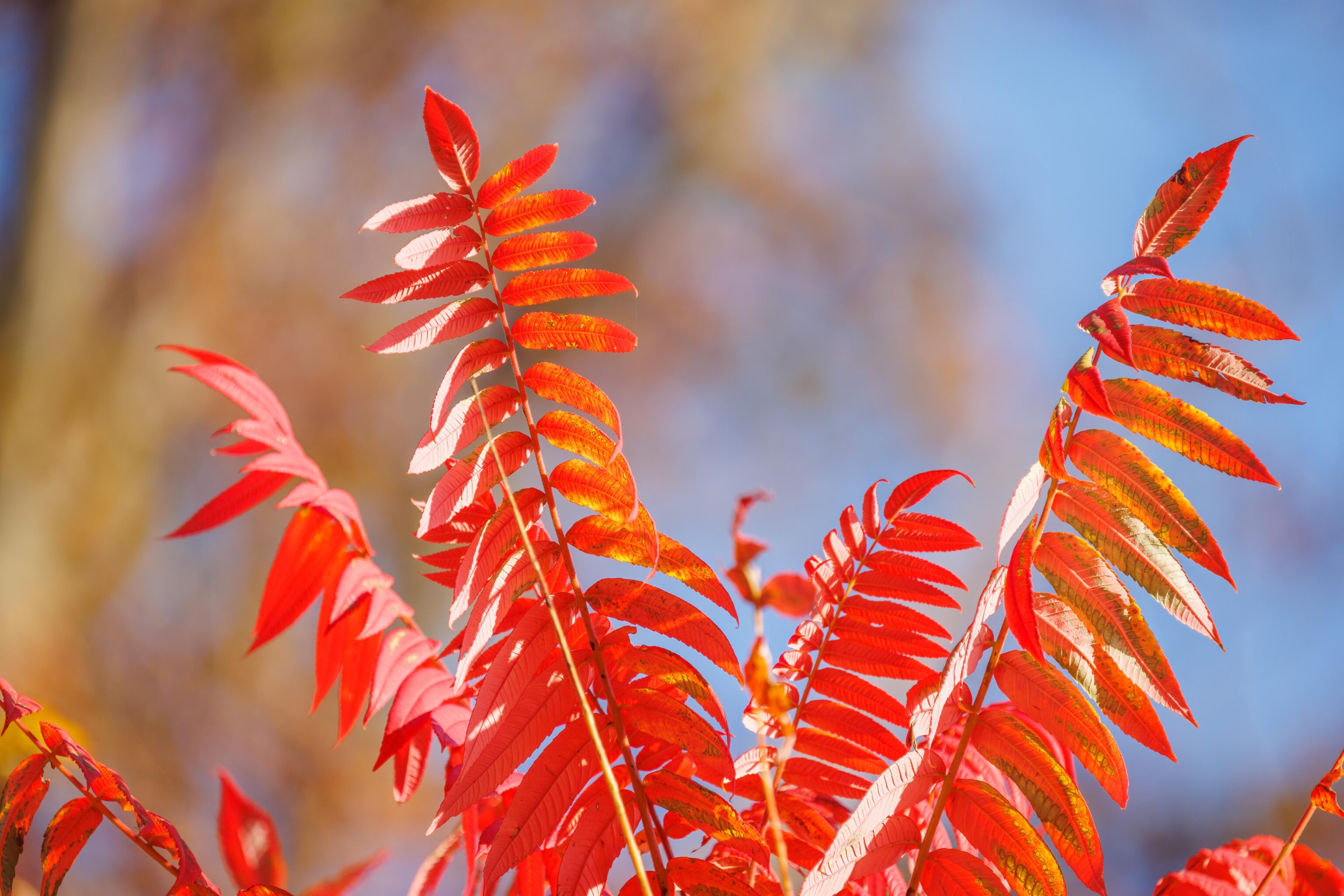 A close look at some of the nearby leaves.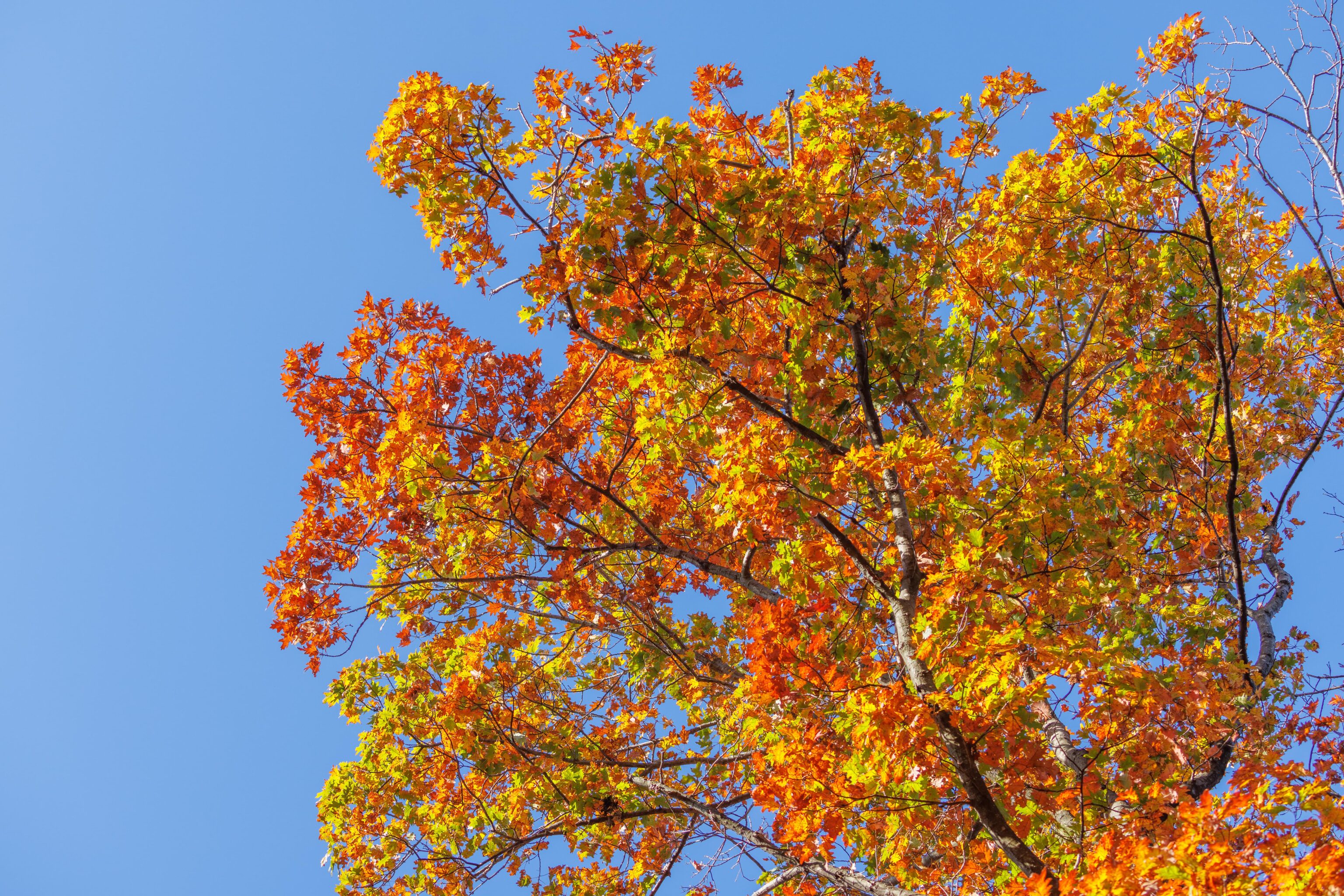 This tree had oranges, yellows, and greens.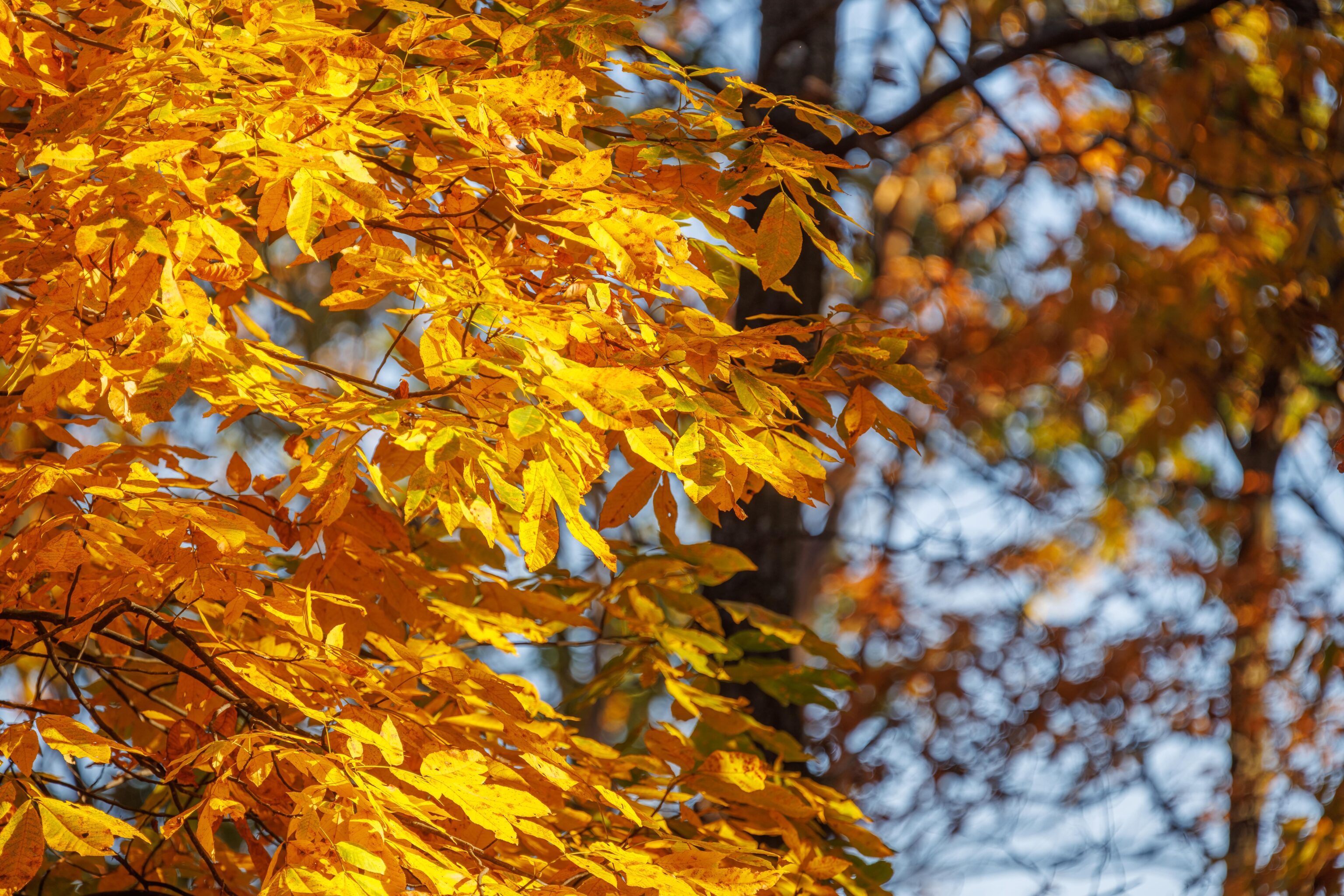 We didn't stay long. We decided to head back down as there seemed to be a better canopy of fall colors there.
Charcoal Trail
We decided to do the Charcoal Trail next. It is a short loop that starts and ends at the parking lot where we parked. Although we've been to Catoctin a number of times, we've never actually walked on this trail.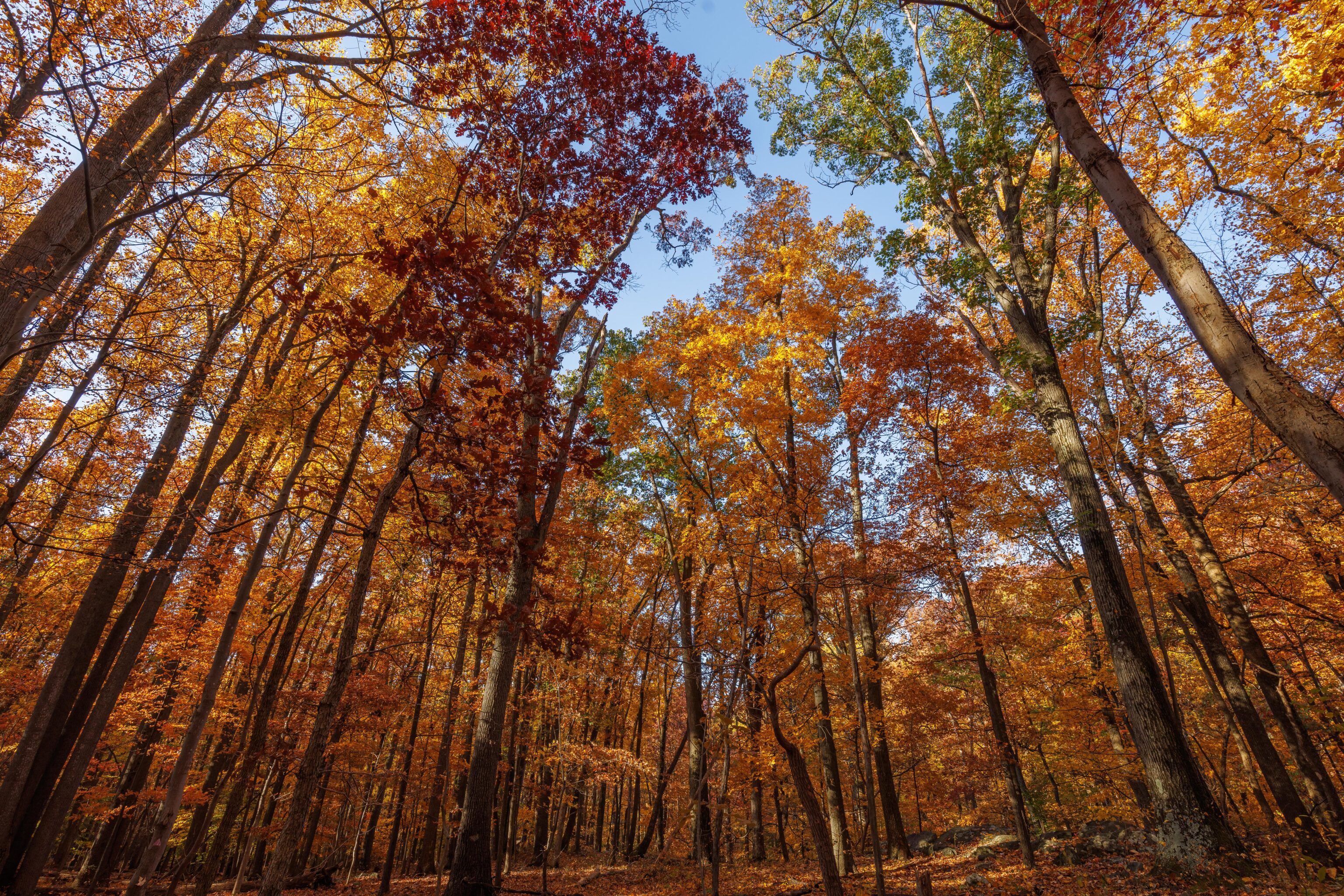 The colors here were still quite good, though subjectively, perhaps not as good as on the trail up to Thurmont Vista.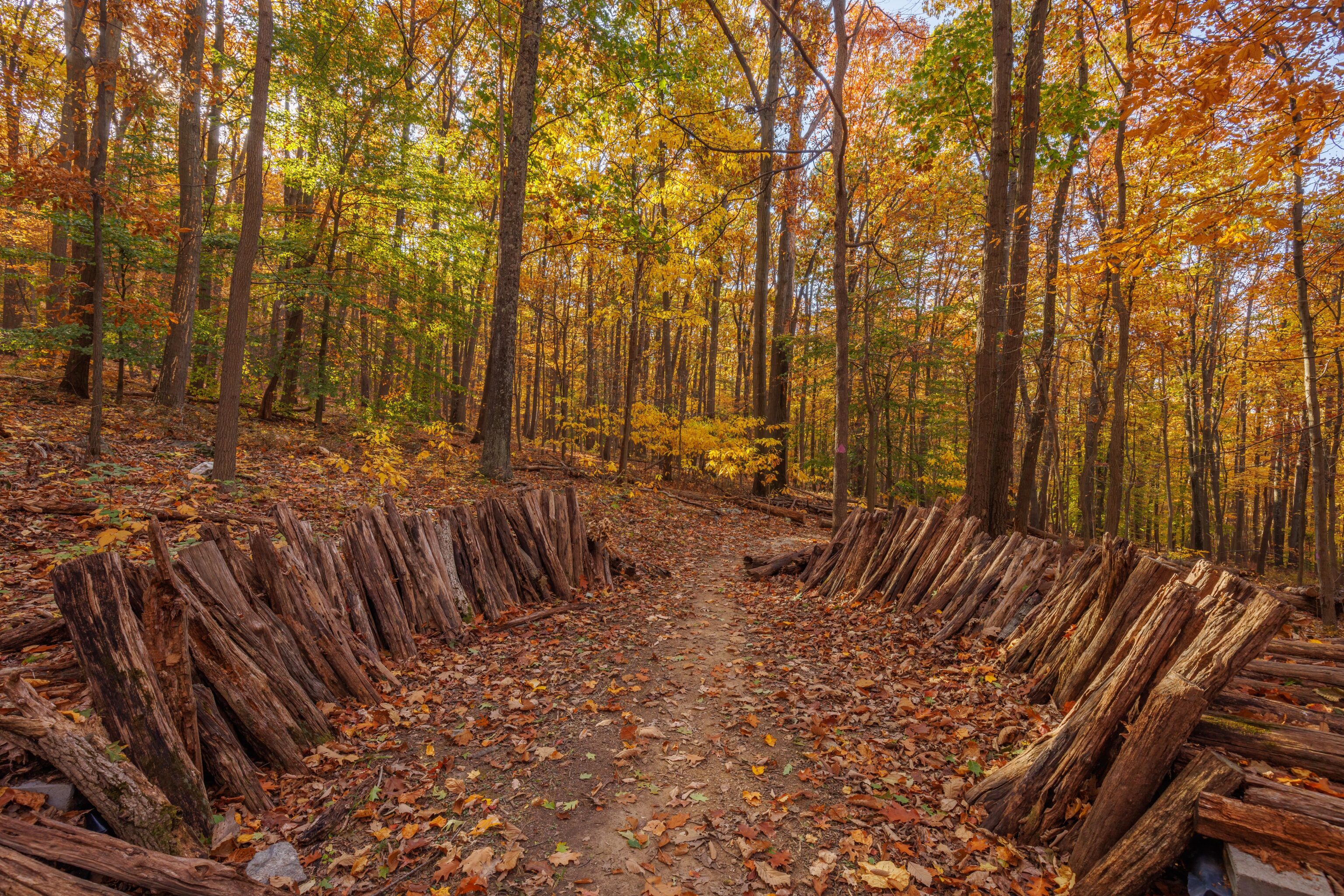 This trail has various exhibits and displays that illustrate how this area was used for charcol production in the 1800s.
There seemed to be a little more green mixed in here.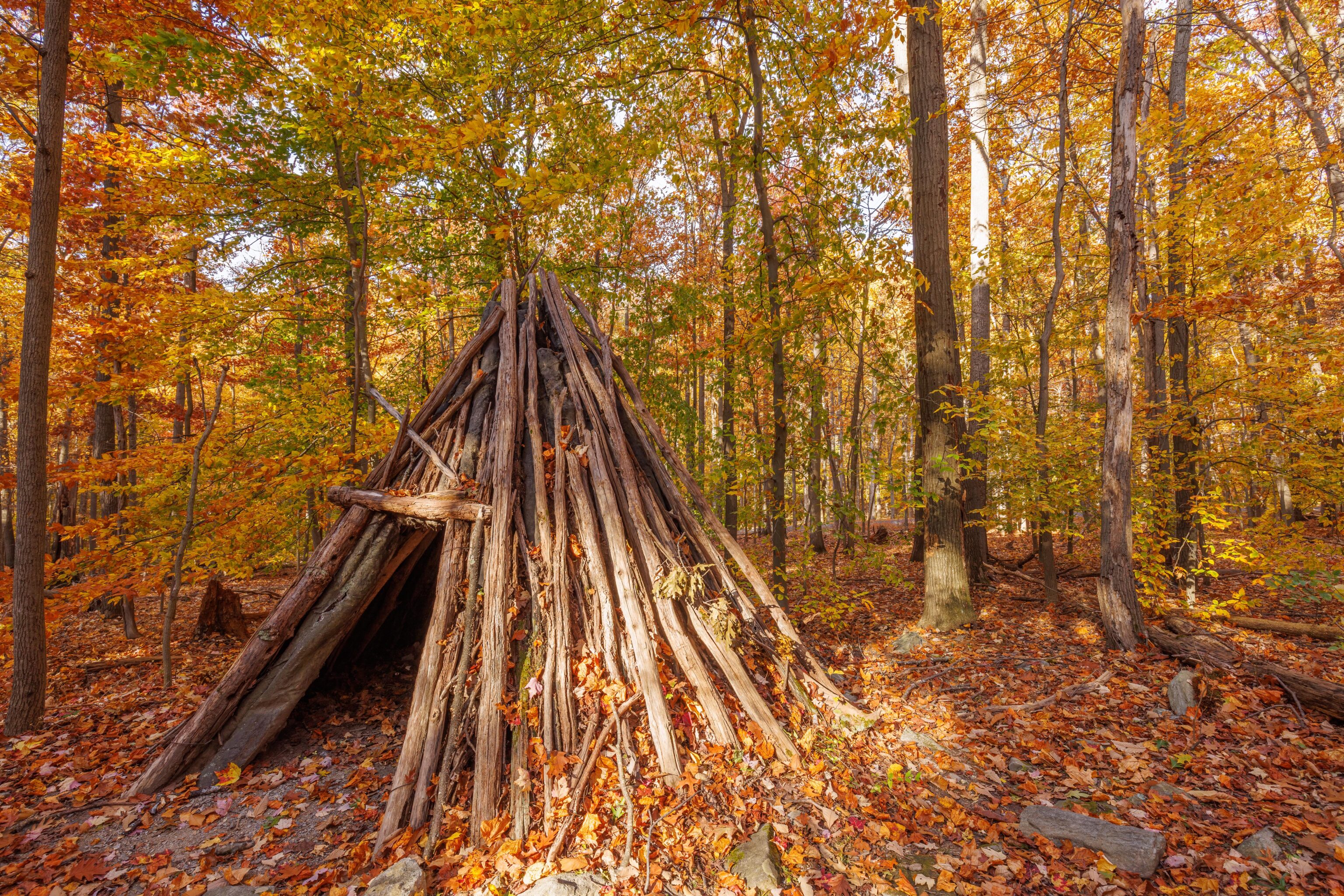 A reconstruction of a wooden teepee like structure that would have been used to house a collier, the person who basically took care of charcoal production tasks.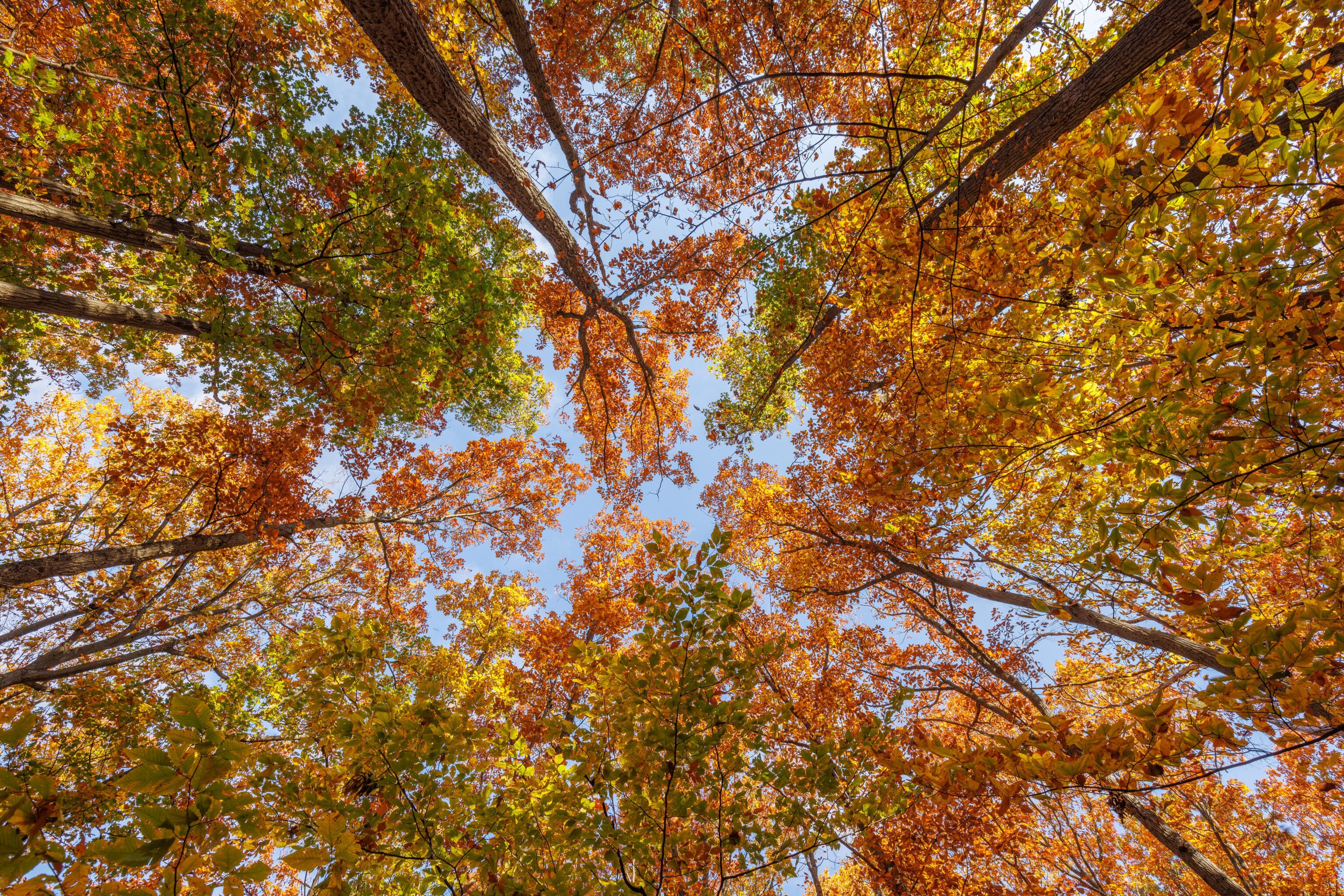 The trail is only about a half mile long. We soon were back at the parking lot.
Cunningham Falls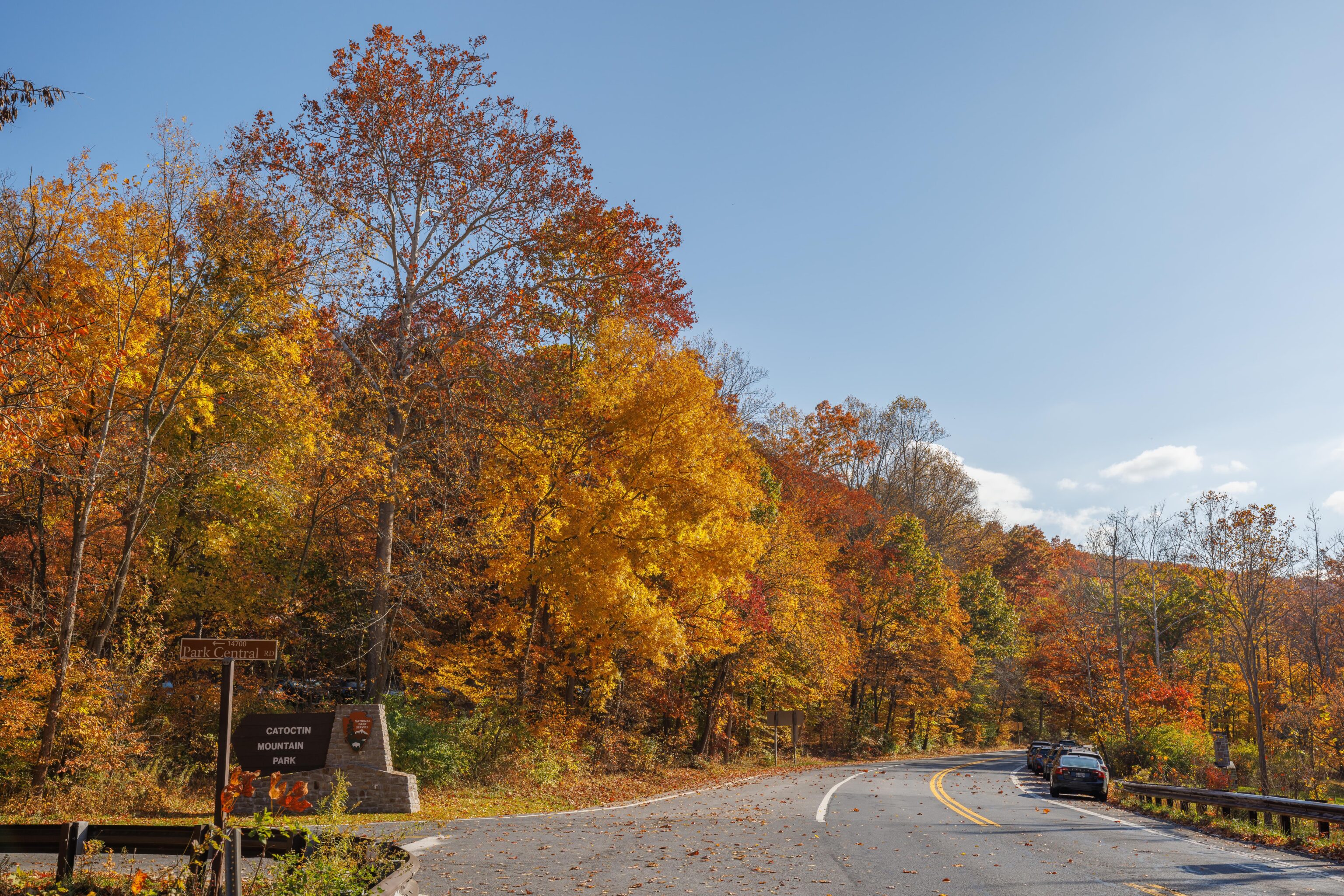 We drove back downhill to the park entrance and visitor center. The two small parking lots there were full so we parked on the side of the road. We briefly stopped at the visitor center to use the bathrooms and refill our water bottle.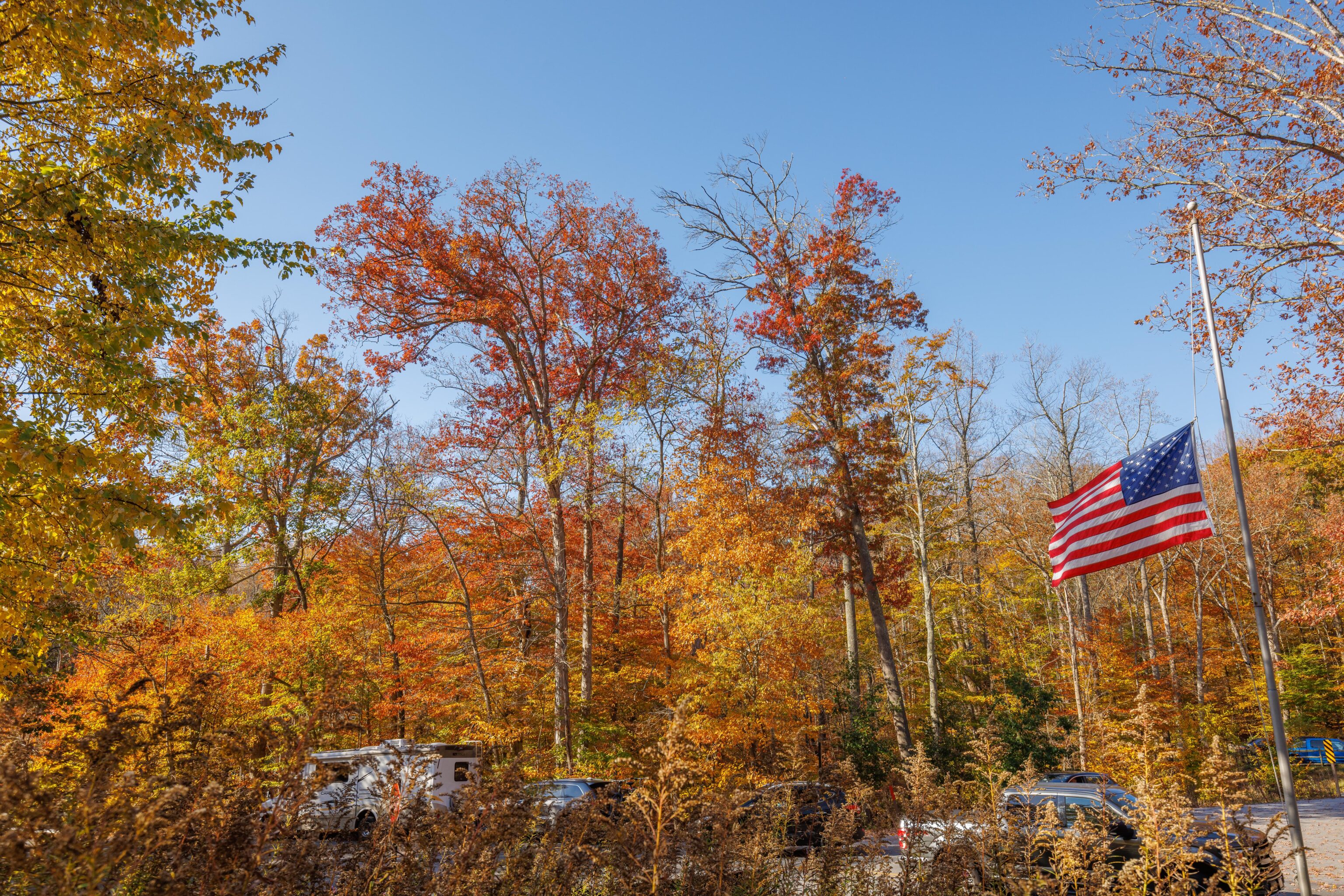 The view from the front of the visitor center.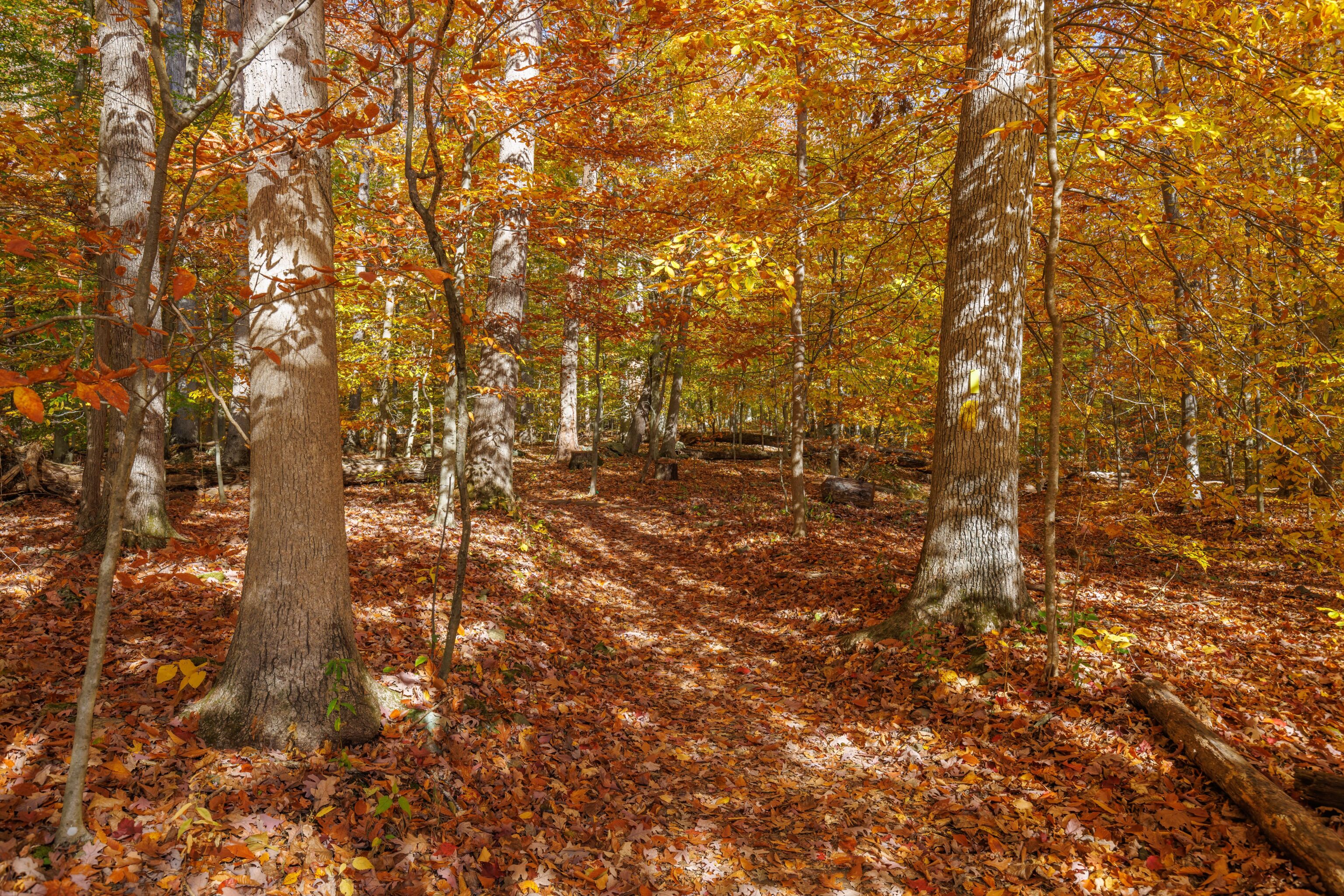 We found the trailhead near the western end of the west parking lot, across the road from the visitor center. While we've been to Cunningham Falls before, we've never hiked from here. There is normally an entrance fee to visit the falls as it is a state park but it is free to enter on foot from Catoctin Mountain Park.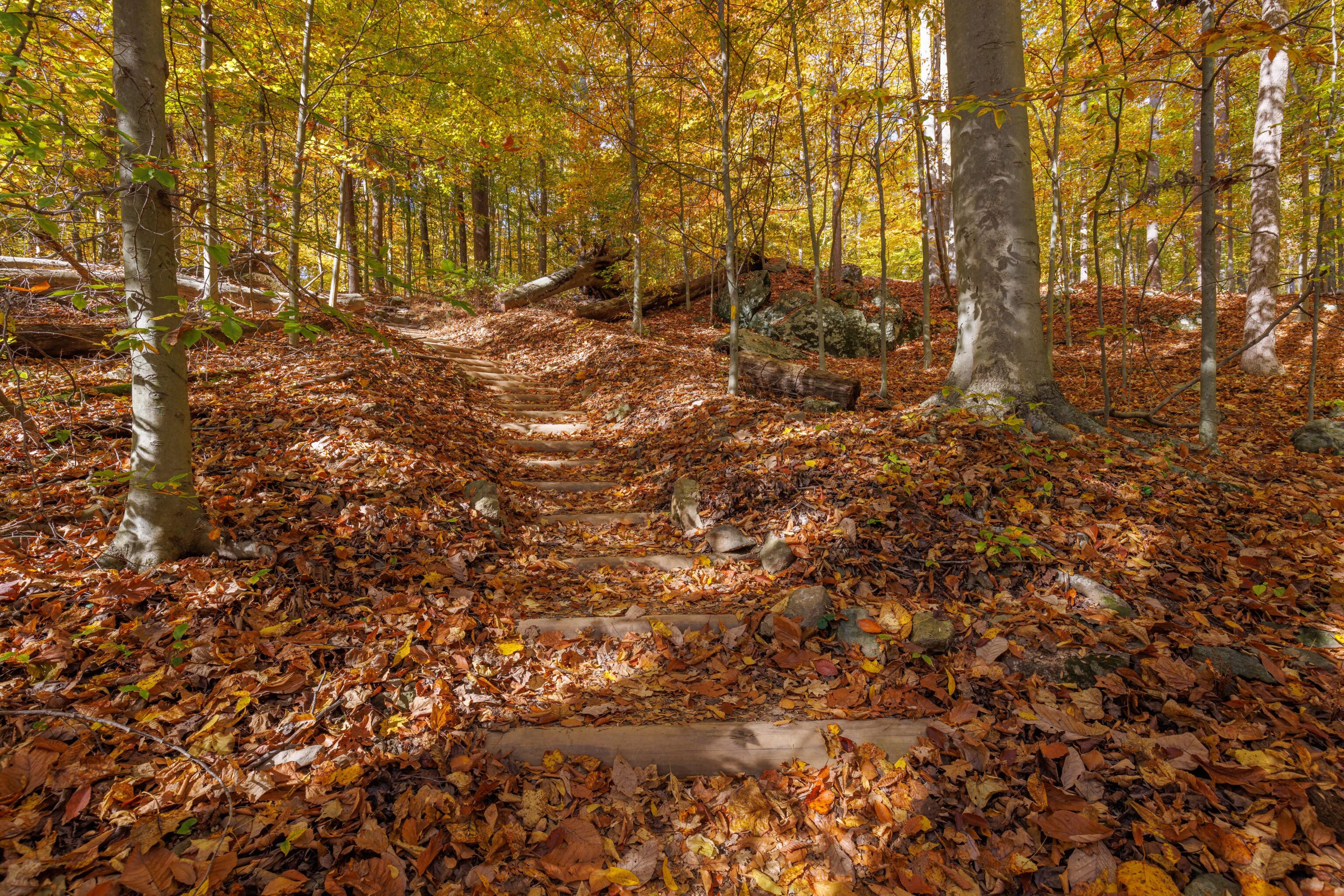 The trail quickly starts with a somewhat steep ascent through the forest. The trail parallels the two lane road that separates the state park from the National Park Service operated Catoctin.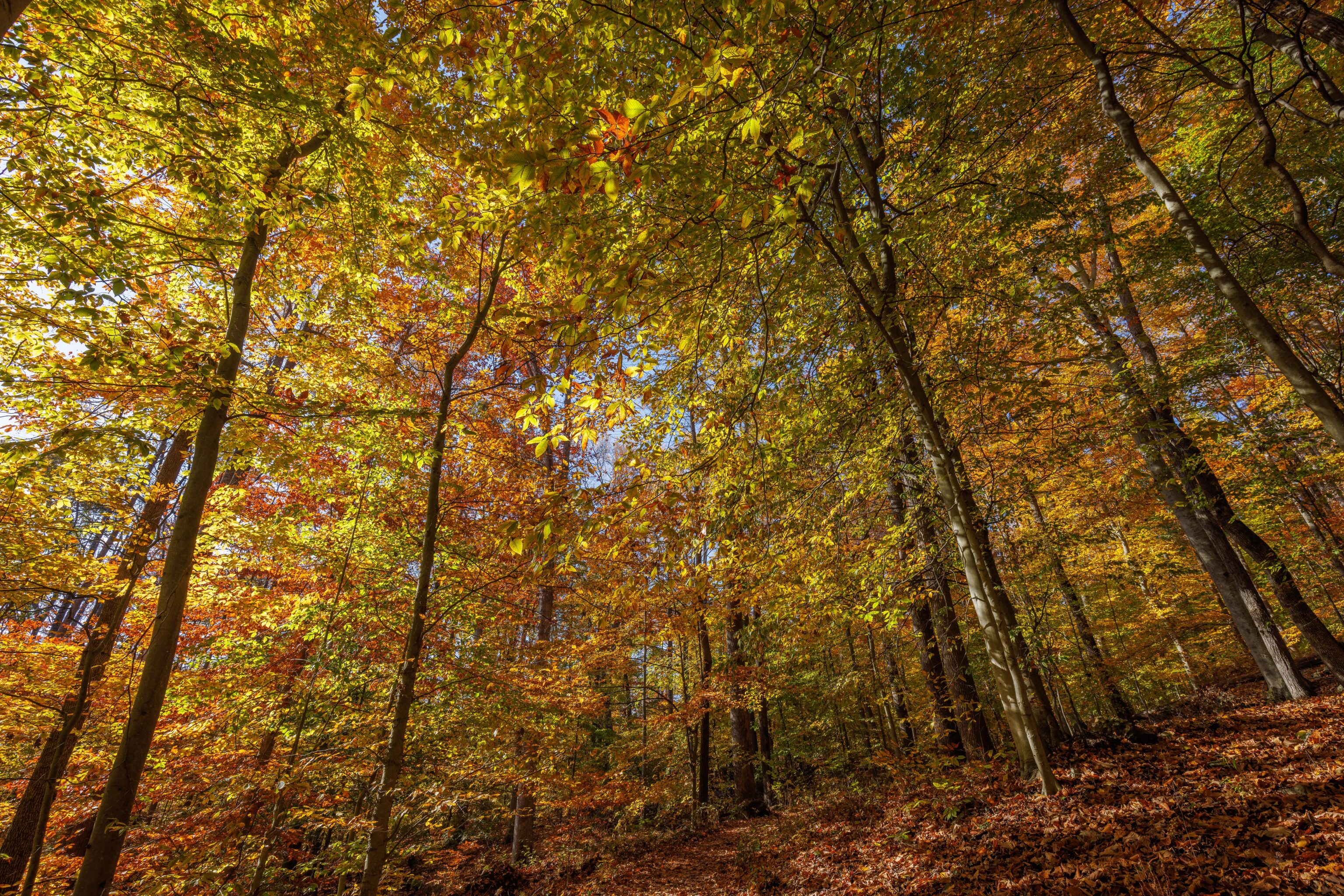 Although we were able to find areas with nice fall colors, overall the foliage wasn't as good here as it was near Thurmont Vista.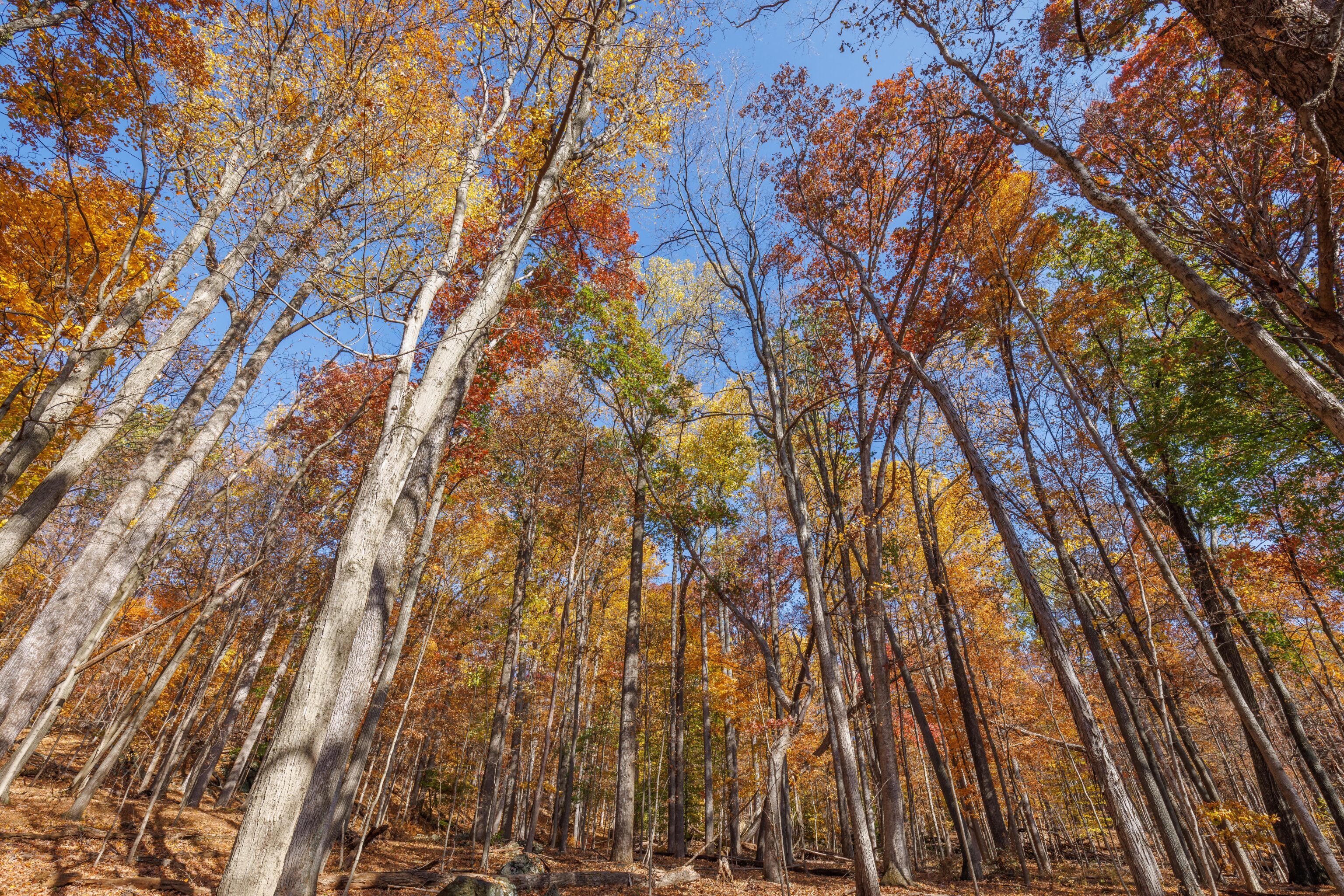 We passed through an area where the leaves thinned out quite a bit.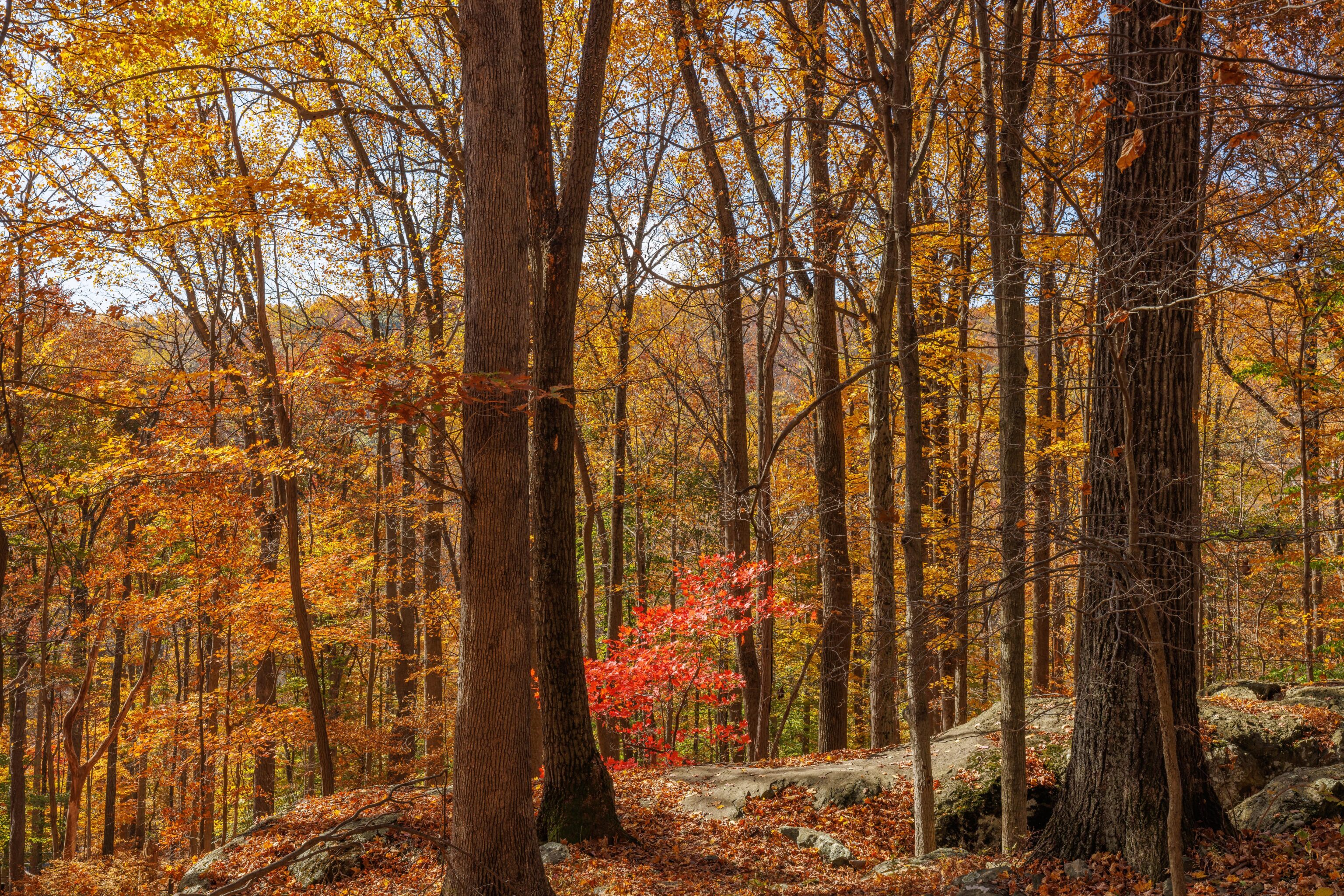 We noticed this small red tree as we walked by, though it looked more dramatic in real life than it does in this photo.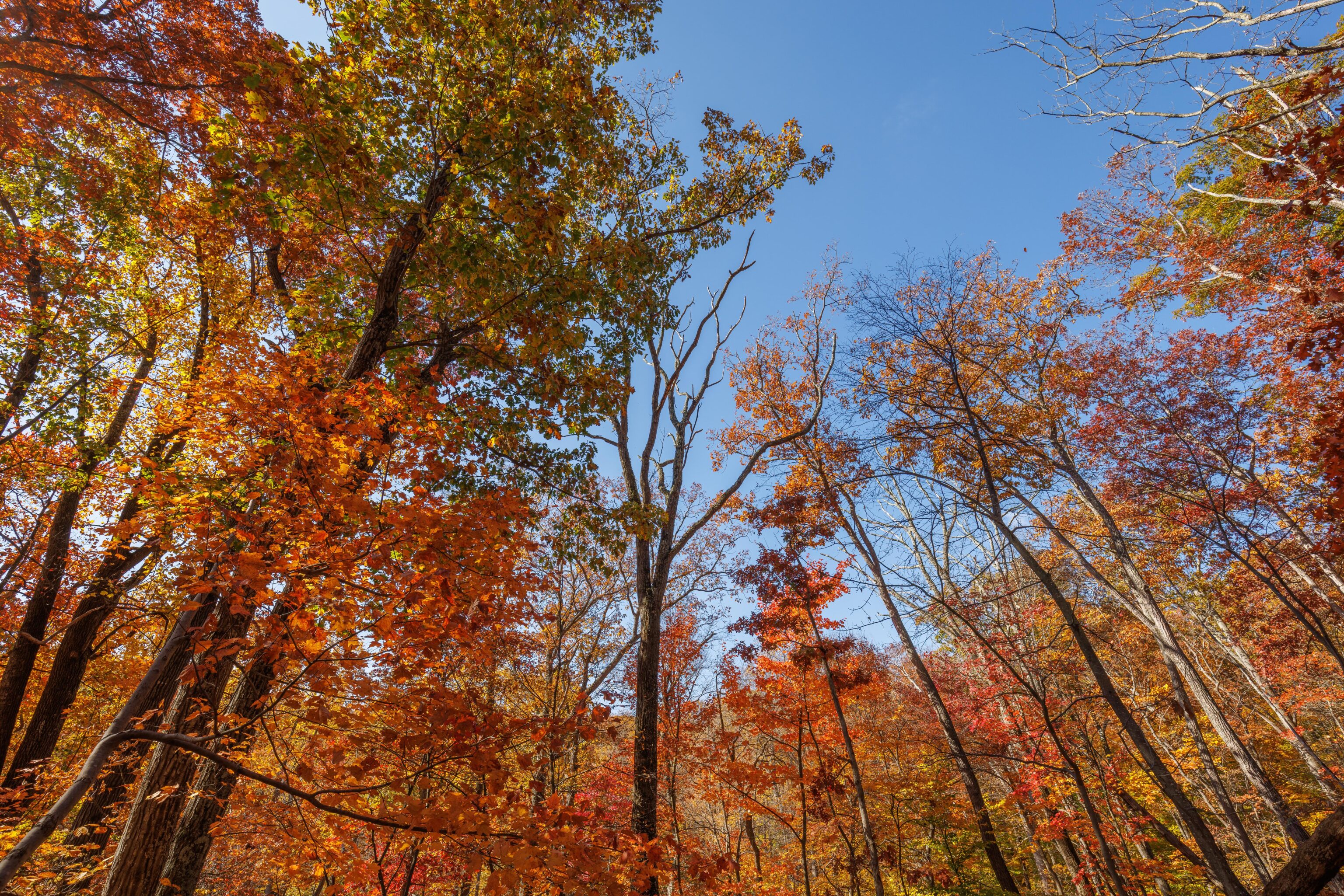 There was another steeper section as we approached the state park.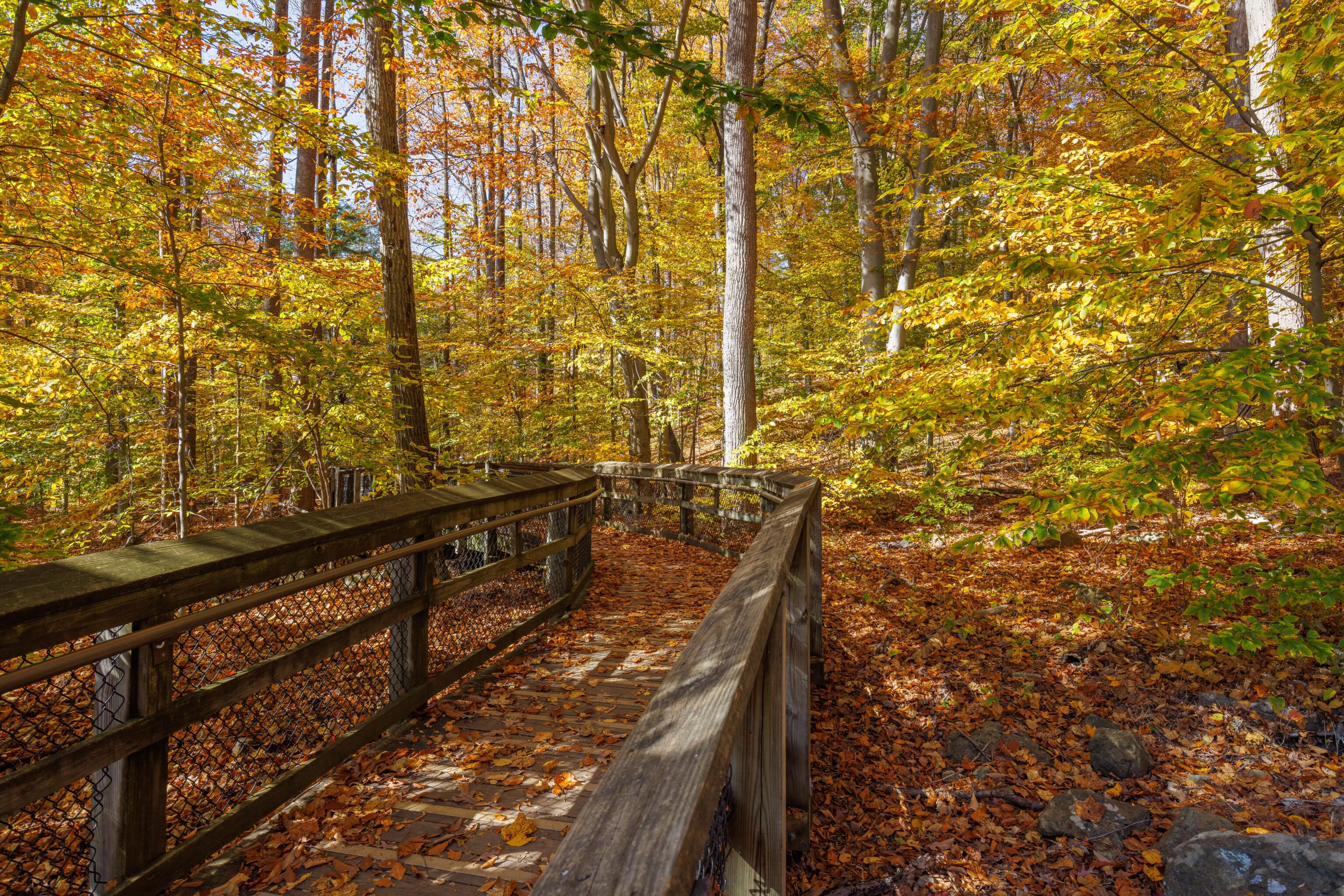 There is a small disability parking lot by the road and this boardwalk which leads to the falls.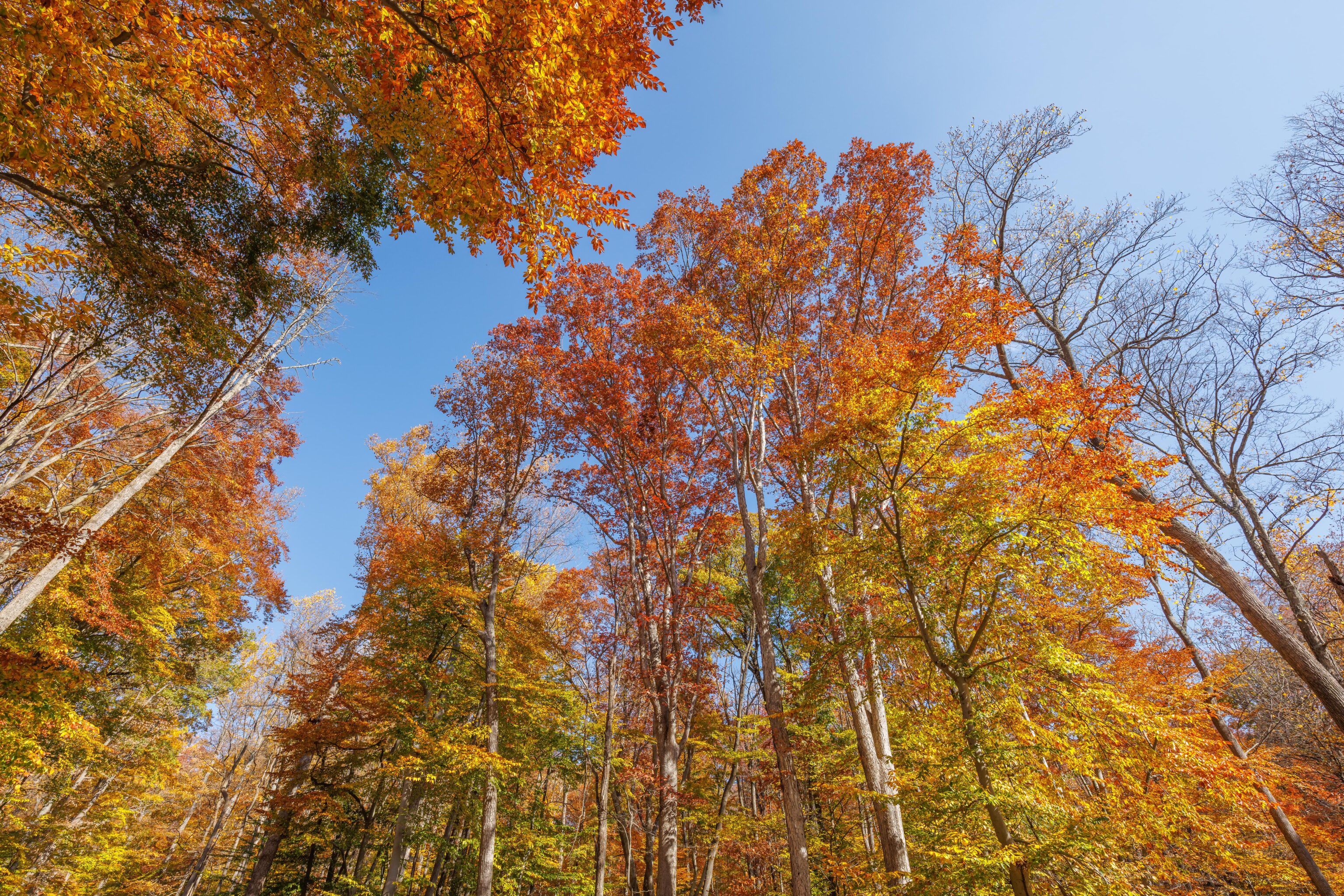 While we could find some nice fall colors, it wasn't like before where it was great in every direction.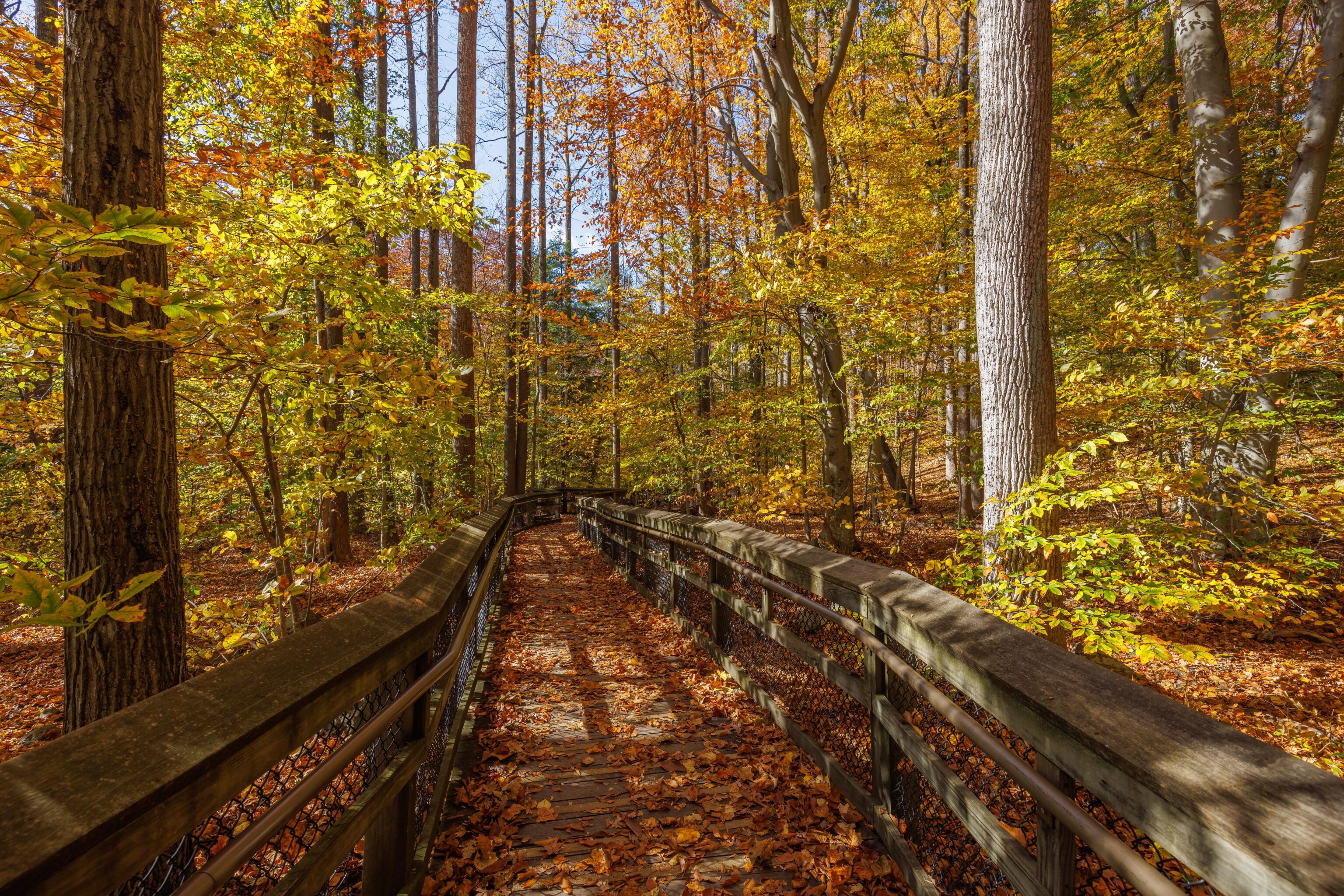 The boardwalk isn't very long, maybe a few hundred feet?
We continued walking…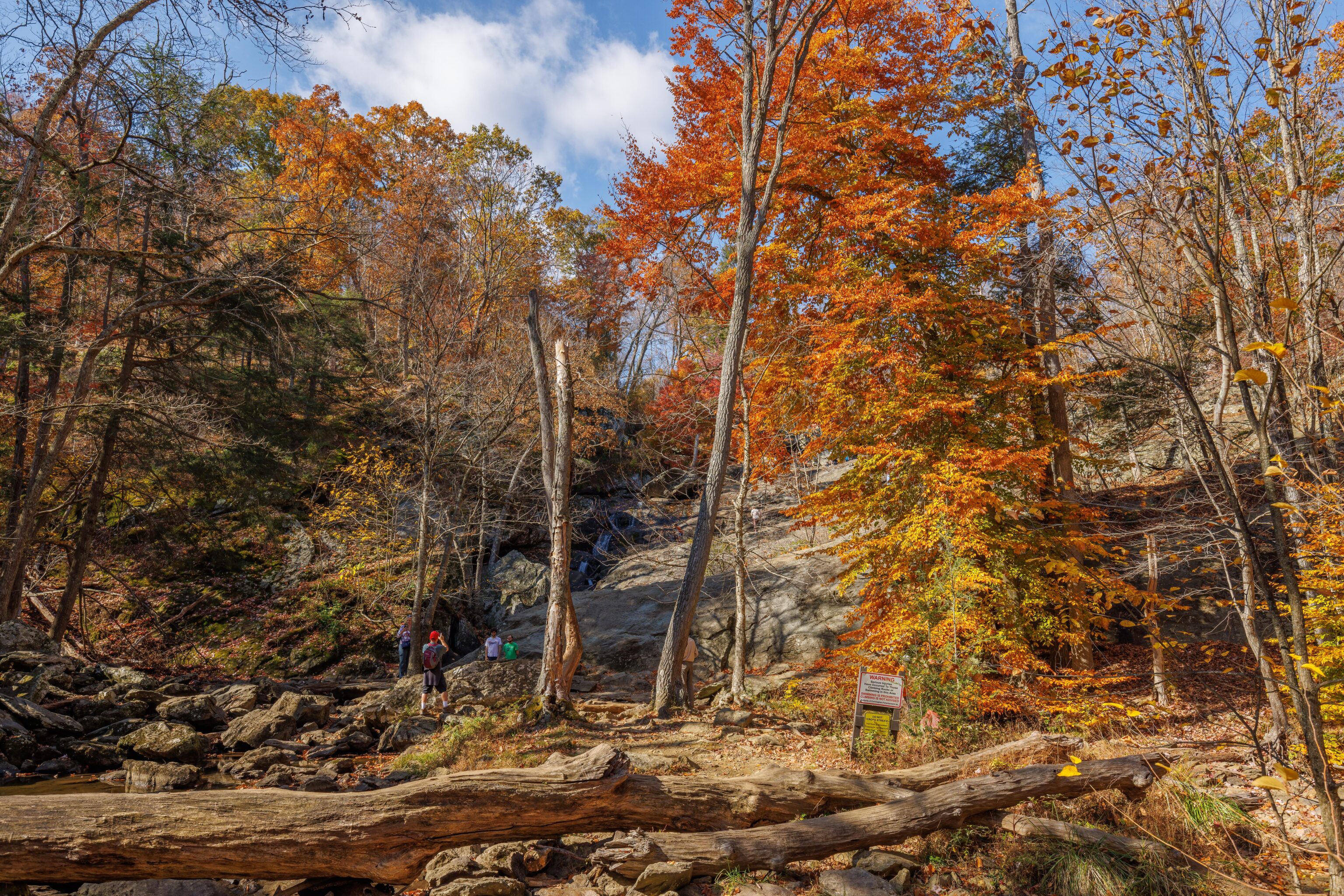 Finally, the falls! It is a small multi-level cascade that drops down over stone. The disability boardwalk is completely boxed in. We vaguely recall being able to exit the boardwalk before, though it is easy enough to simply climb over the railing. Has it changed over the last few years or is our memory faulty?
We didn't go any closer as we've been here before and compared to other waterfalls, it isn't particularly impressive. And the foliage here was unfortunately not nearly as good as what we saw earlier in the morning.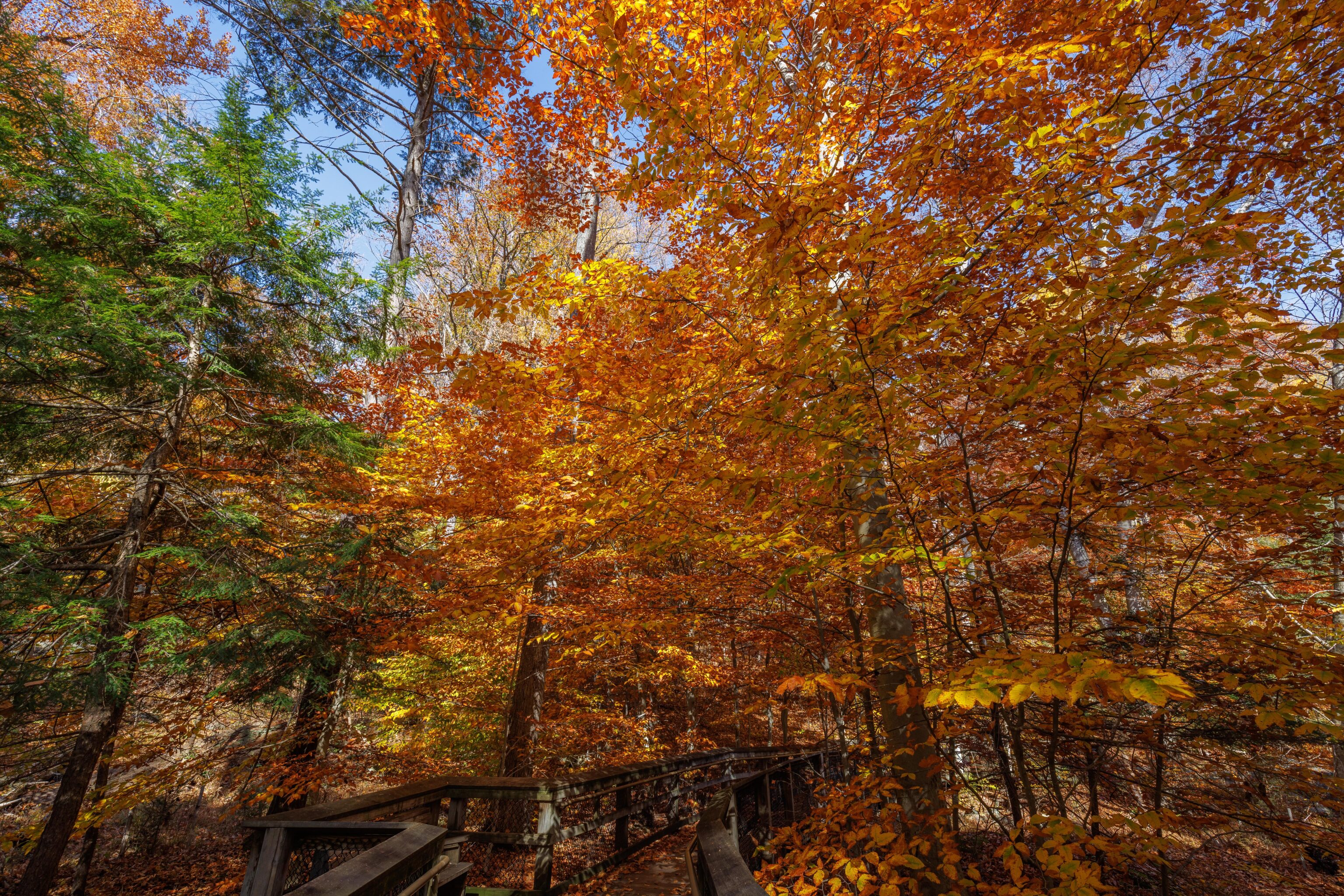 We soon turned around and started heading back. It is possible to make a big loop, hiking up and by Thurmont Vista, but we were happy to just go back to the car!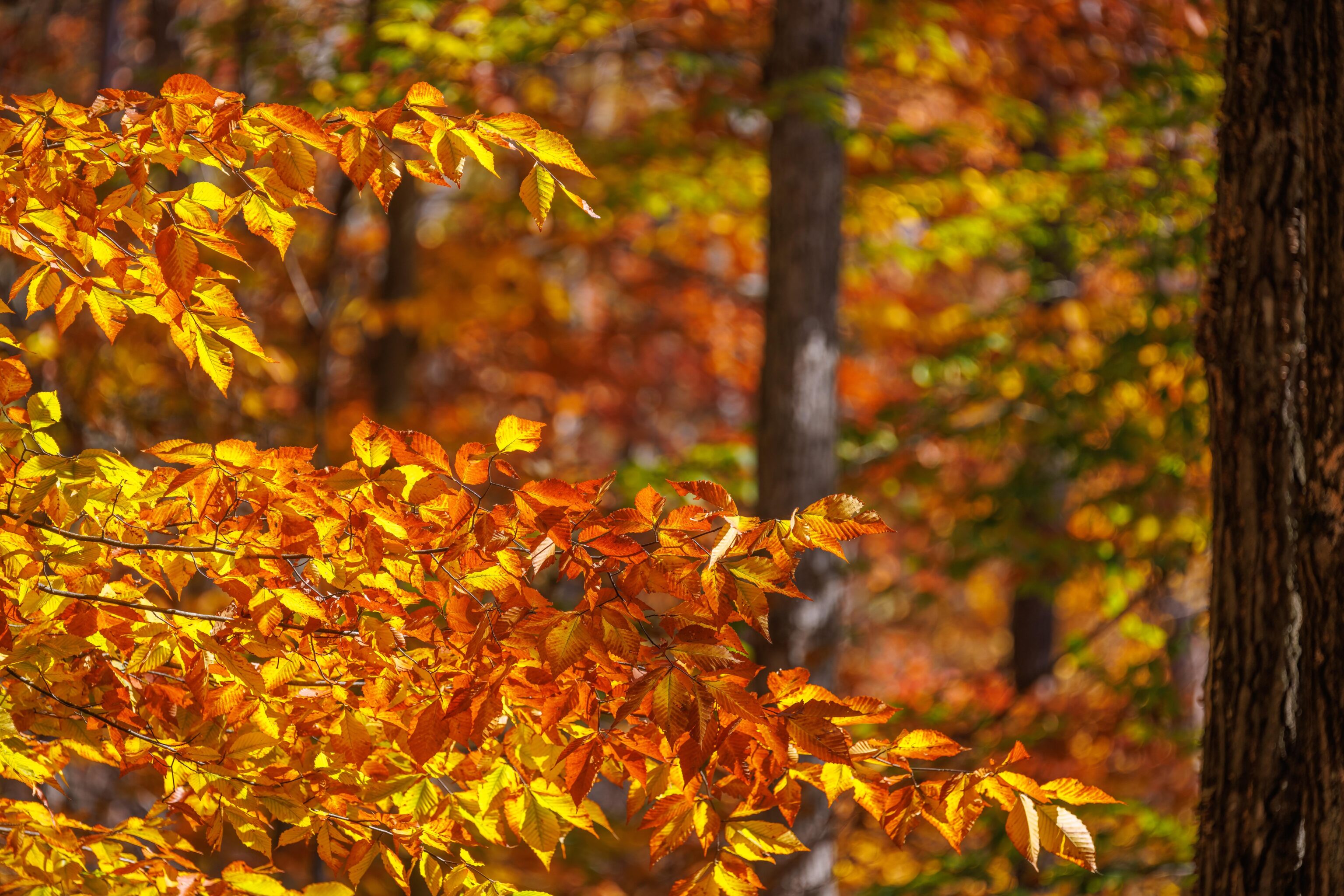 We switched to the telephoto lens once we crossed the road. It was a bit hard to try and find compelling scenes to photograph. Quite different compared to last weekend when it seemed that telephoto photography was easier than wide angle here.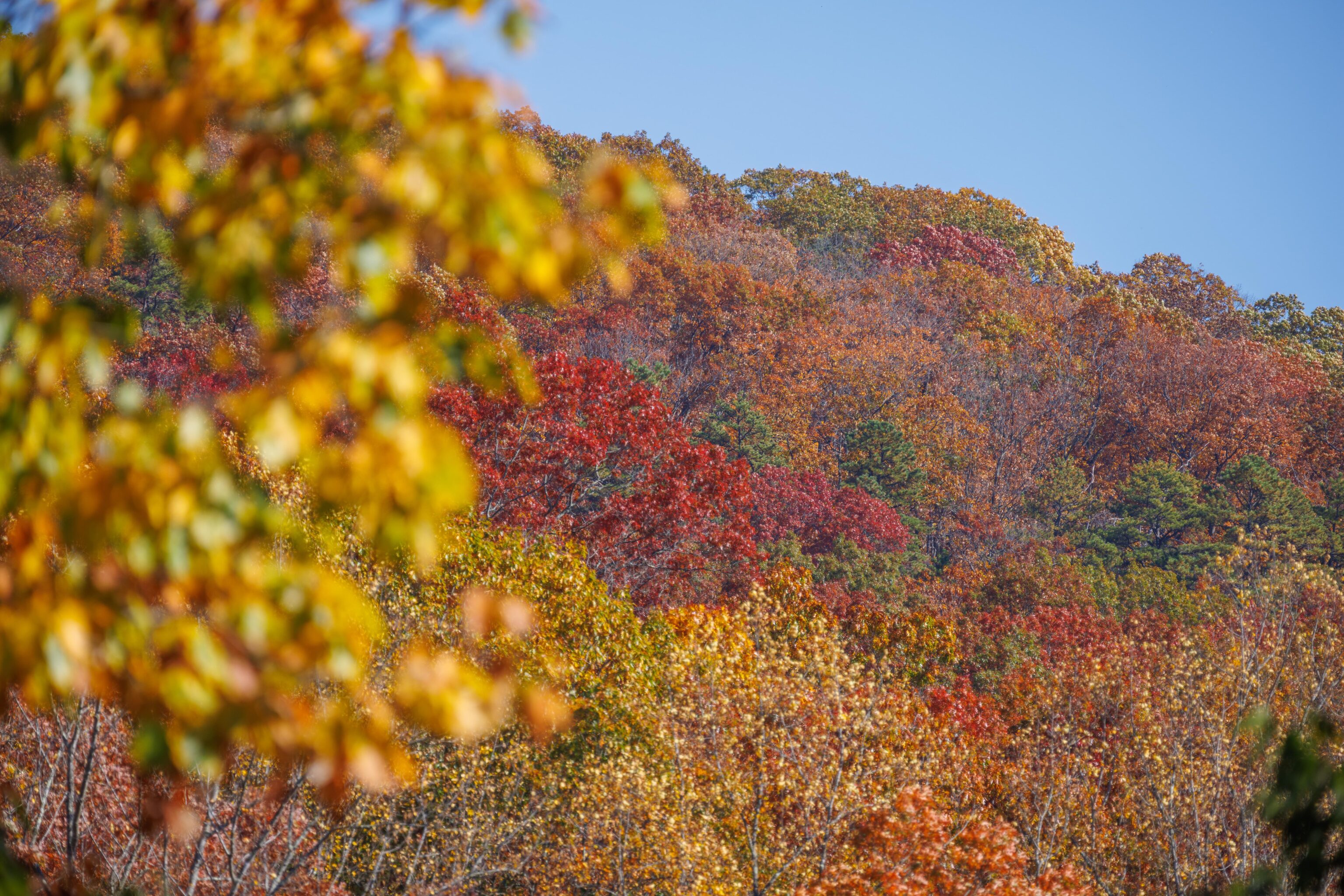 After returning to the visitor center, we again visited the facilities and got more water. The mountains above were quite beautiful, though there isn't really any great vantage point near where we parked.
Frederick
We drove to nearby Frederick to take a walk around and have a late lunch. We wanted to see if Carroll Creek Park, which runs through the small city, had any good fall colors.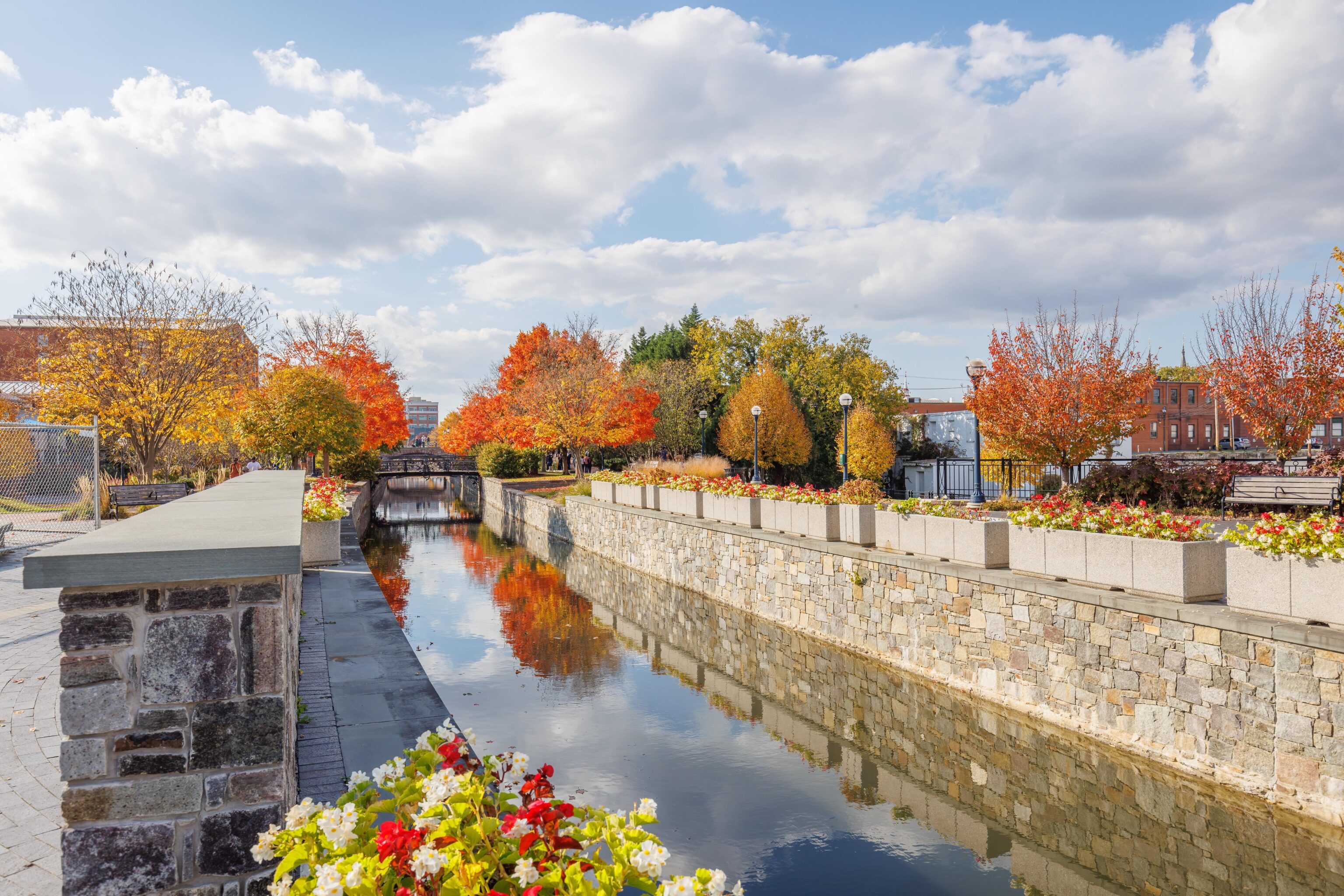 We started walking through the park from the east. We noticed a few trees with beautiful colors but others already seemed to be done for the year!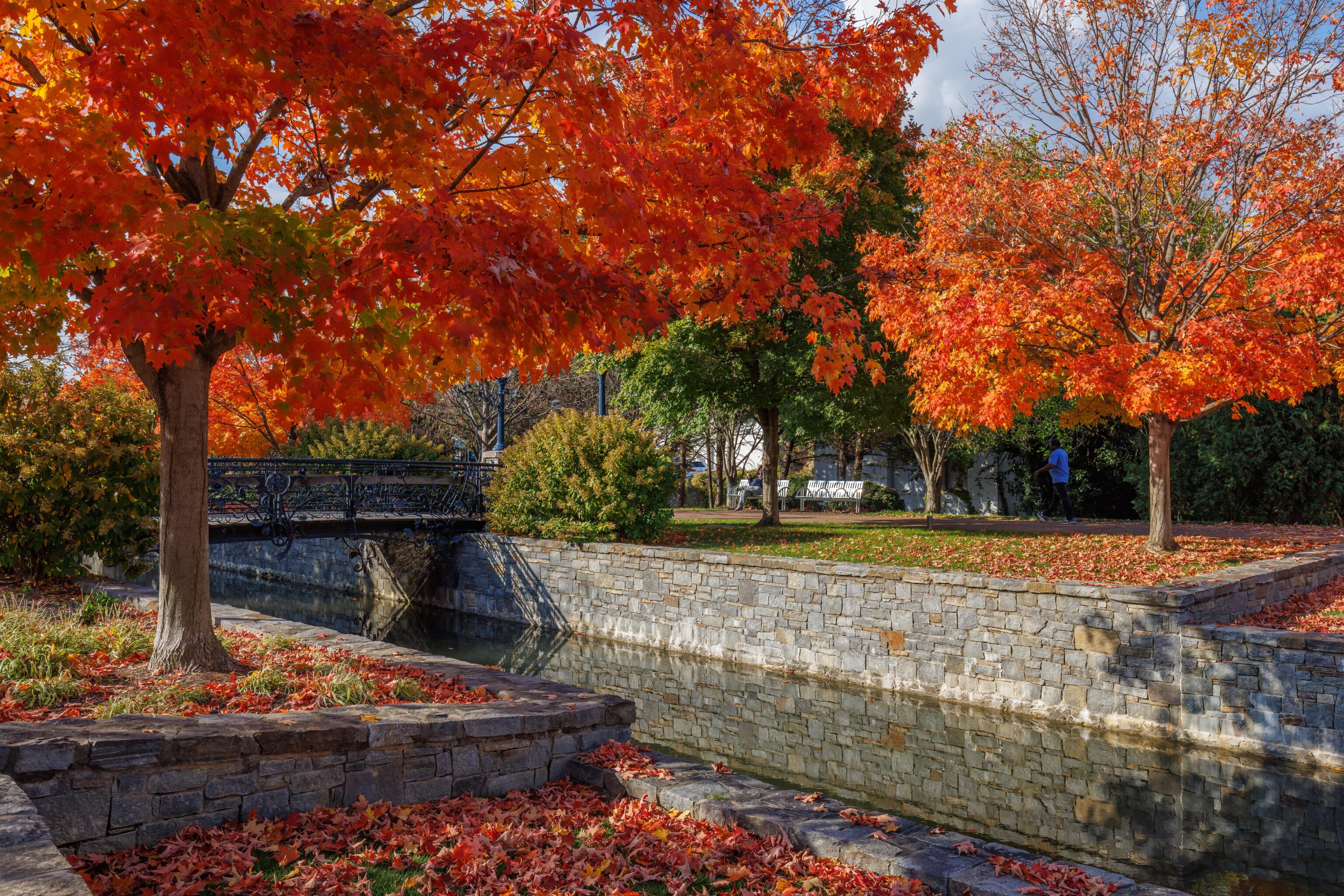 It seems that we are a few days too late!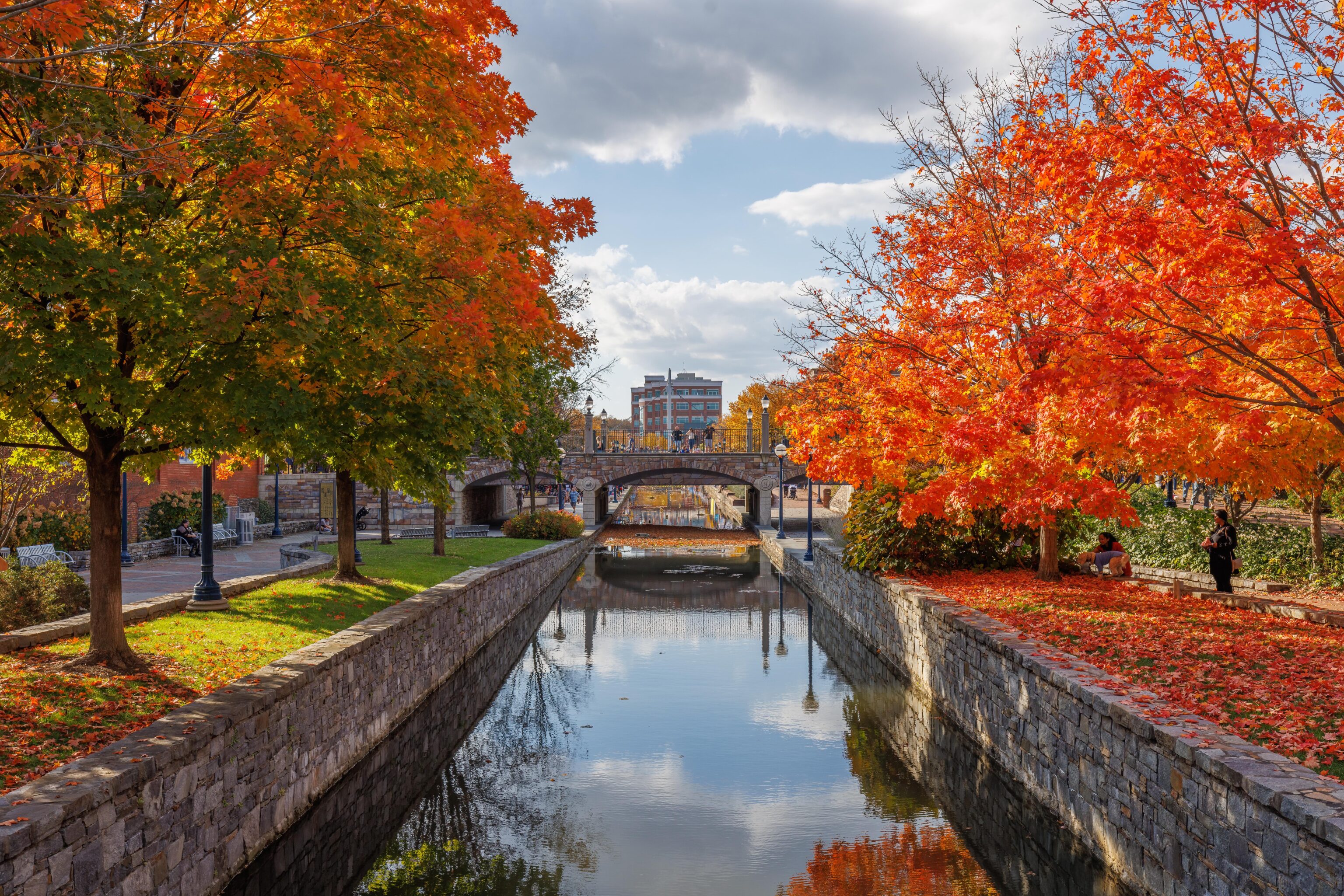 There are numerous bridges that run across the calm waters of the creek.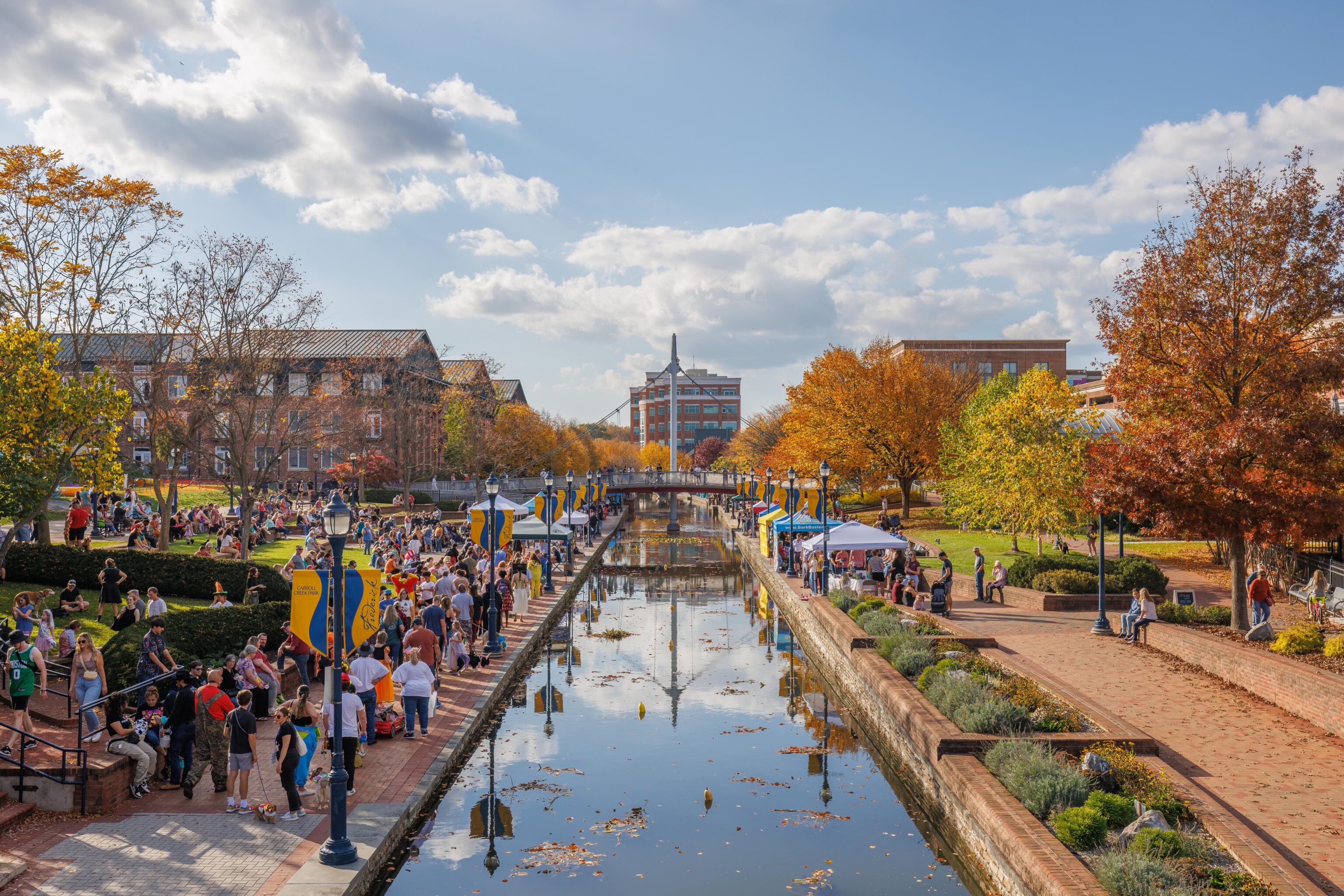 We came across an event that was going on! It turns out this is Canines on the Creek, a Halloween event involving costumes and dogs! There were a few recurring costumes like super man and woman dogs. Perhaps the best was one that we saw as we were driving away, a hot dog!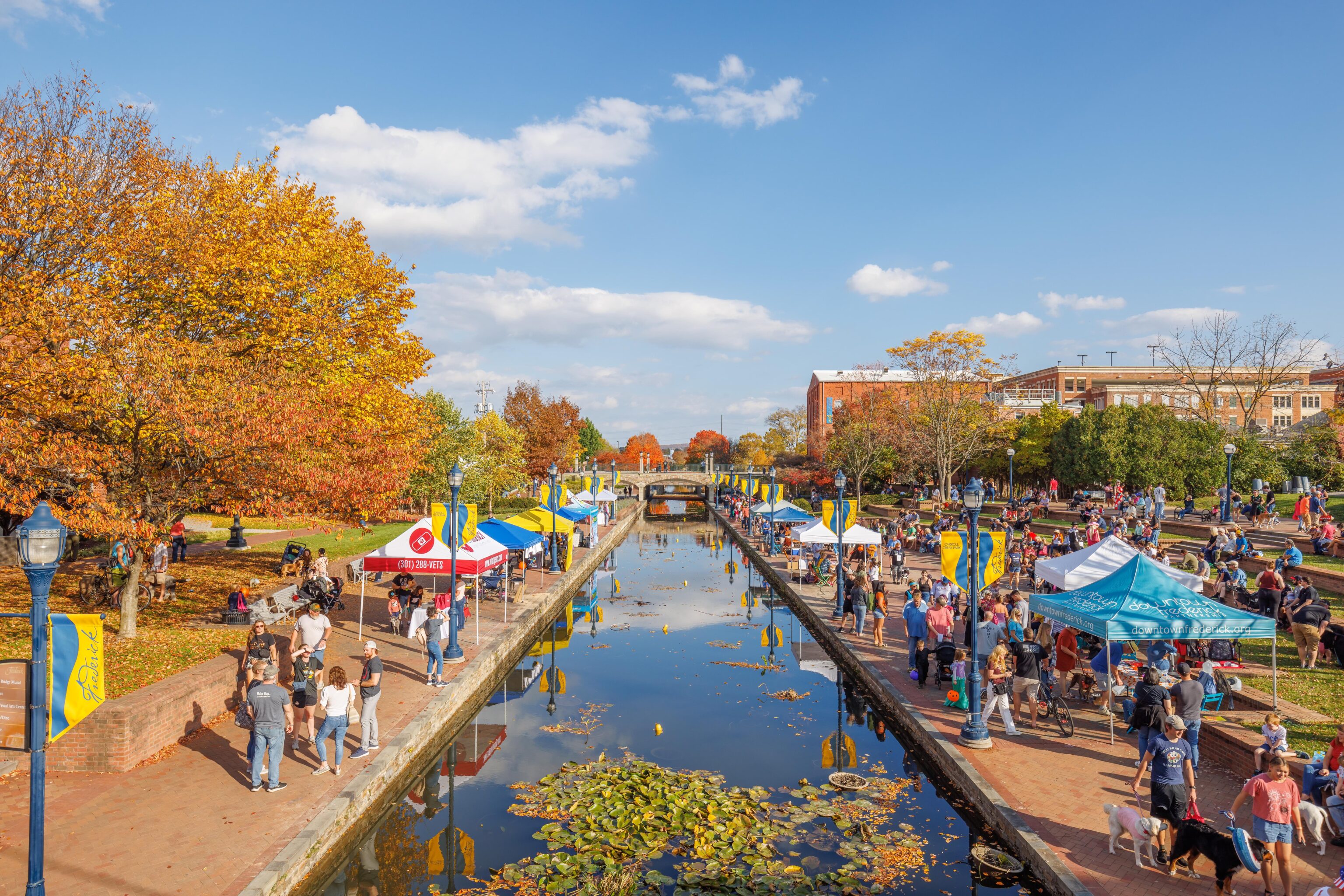 We continued walking to the west through the park. It was unseasonably warm and felt like summer under the hot afternoon sun. It was 82°F, beating the previous record by three degrees.
---
Thurmont Vista Photo Map
Charcoal Trail Photo Map
Cunningham Falls Photo Map
Frederick Photo Map